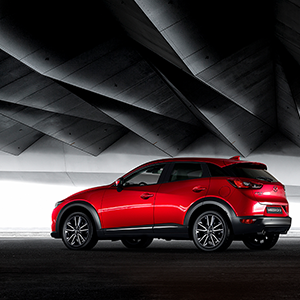 Mycarcheck's valuation experts reveal significant trends in the UK used vehicle market and choose a car and bike of the month.
Vehicle valuation manager at mycarcheck, Jon Wheeler, said: "If you're in the market for a compact SUV, the Mazda CX-3 is a worthy contender. Launched at the 2014 LA Auto Show, it boasts a high quality, classy interior, stylish looks and is fantastic to drive. Ideal for a young family, a used CX-3 is both practical and affordable. Our choice would be the 1.5 SkyActiv-D 105ps 2wd in SE-L guise, but don't overlook the 2.0 SkyActiv-G petrol as it might be a more cost-effective option. As always, check before you buy, because a higher than average proportion of Mazda CX-3 models we checked in 2017 were still on finance."
As to market trends, Wheeler said: "UK new vehicle registrations ended the year 5.7% down on 2016. However, while this looks like a hefty loss, it still means that over 2.5 million new cars hit the roads. Alternative fuel vehicles (AFVs) – hybrids and full electrics – achieved a huge 34.8% uplift year on year, so demand is clearly building. The promised investment in charging infrastructure will be key to sustaining this momentum. Although diesel suffered a big hit in the new car market, largely due to concerns over emissions, used traders are reporting a healthy appetite for good condition diesel models. Depending on your needs, diesel might still be the right fuel for you."
On the motorbike, scooter and moped sector, mycarcheck's Mark Field said: "In a game of top trumps, the Triumph Rocket would surely be a great card. The massive 2294cc engine is the largest production engine ever made for a motorcycle, generating an impressive 163ftlb of torque and 146bhp. Another eye-watering statistic is the weight, 367kg, which is noticeable while riding. However, thanks to a clever change of foot peg positioning, and a slightly raised seat height, the current model is actually quite easy to ride. ABS and a digital display for fuel and gear indicators give it a modern touch, and the fact that it is shaft-driven points to reliability and ease of maintenance. Residual values are high but check before you buy because, based on the admittedly small number we checked last year, they are prone to being written-off."
As to market trends, Field said: "Having allowed the dust to settle, it is time to challenge the perception that 2017 was a particularly subdued year for bike sales. At first glance, a drop from 128,644 new registrations in 2016 to 105,467 looks bad. However, it is important to remember the impact of the Euro 4 regulations, which loomed large over the industry in 2016. Any Euro 3 bike had to be pre-registered, and this surge resulted in the market being saturated. If we take the 115,121 vehicles registered in 2015 as the benchmark, the two-wheeled market showed only a 4.4% loss last year, which compares favourably to the 5.7% decline in new car registrations. Does this mean the sales dip was more a reflection of the wider economy, rather than a bike-specific issue as some openly feared? Time will tell, but the recent bike show at the NEC provided many reasons to be optimistic that 2018 will be a much better year."
With information from the police, DVLA, insurers and finance houses, My Car Check holds comprehensive data on every vehicle on UK roads – things that buyers should be aware of before making an offer.
CDL Vehicle Information Services, which owns My Car Check, performs over a million look-ups a day for companies including AutoExpress, CompareTheMarket, Go-Compare, Moneysupermarket, Swiftcover and Tesco.