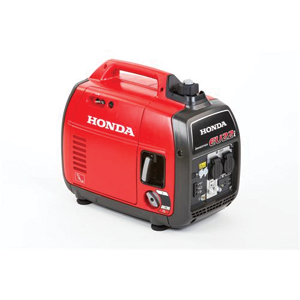 Kicking off 2018 for Honda (UK) is the launch of the new EU22i, successor to the best-selling EU20i from Honda's portable inverter generator range.
Offering a 10 per cent increase in power, plus a range of enhancements to make it more durable and user friendly, it still remains as quiet and almost identical in size and weight to the EU20i which it replaces. The EU22i is available to buy now with the price remaining competitive at £1,249 (incl. VAT) – the same as the outgoing model.
The new EU22i retains the advanced technologies for which the original is renowned since its introduction in 2001, using inverter technology to offer electricity clean and stable enough to charge sophisticated devices including laptops, tablets and mobiles, while strong and powerful enough to handle more demanding equipment or act as a back-up.
Honda's revered Eco-throttle mode also remains a feature of the EU22i – constantly adjusting engine speed to precisely match electrical output with load – saving fuel, reducing operating noise and extending engine life when maximum output isn't needed. The ability to seamlessly link the unit to another for extra power through parallel operation is also still possible.
Maximum power output is up by 10 per cent to 2.2kW thanks to the all-new four-stroke Honda GXR120 (120cc) engine, operating at a lower speed to the GX100 (100cc) featured in the EU20i, with operating noise a quiet 91db (A), improving fuel economy and increasing operating time up to 8.1 hours on one fill. The new engine also offers improved handling of varying load demand, with faster speed recovery when load increases, and cleaner combustion which meets stringent Euro5 emissions standards.
Despite the increase in power and capability, the EU22i retains the same dimensions and almost the same weight as the outgoing model. Dry weight is 21.1kg, a negligible 400 grams up on the original, and with a full tank of fuel just 24.2kg – the same as that of the EU20i. At just 509cm(L) x 290cm(W) and 425cm(H), the lightweight EU22i remains truly portable, with a large carry handle allowing easy handling by one person.
Honda's trademark durability, reliability and ease-of-use which runs through all of its' products is further ensured through a range of enhancements. A new fuel valve arrangement prevents fuel going stale during extended periods of storage by allowing the fuel supply to be switched off while the engine is running until all fuel in the carburetor is consumed and the engine stops. Draining the engine in this way before storage ensures no problems and easier starting when it's time for the EU22i to be filled with fresh fuel and get back to work.
Engine oil changing and filling is also easier and cleaner than before, with less chance of spillage, thanks to an extended rubber channel to contain oil while emptying the sump, and a larger diameter filler opening to simplify top-ups and allow direct filling from a can. Durability enhancements to the recoil starter housing offer improved resistance to wear and damage.