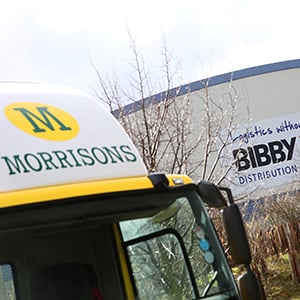 DEAL: Third PCC set to open
The partnership between Bibby Distribution and Morrisons is set to reach a new phase with the opening of a third Primary Consolidation Centre (PCC).
Located in Kent, the new centre expands the Bibby Distribution-Morrisons PCC network as the 3PL providers help the supermarket chain boost their inventory efficiency.
The new 10,000-pallet capacity PCC will draw in regular deliveries from a variety of suppliers based in the South East.
Once consolidated at the centre, an advanced software system developed by Bibby Distribution for Morrisons creates full multi-sku, multi-vendor loads, which can be taken to regional distribution centres across the country.
The result is that supermarkets will benefit from 'little and often' deliveries, in keeping with customer buying habits, and Morrisons can optimise their delivery centre use, slashing operating costs.
"We've worked extremely closely with Morrisons to ensure they have the right solution."
Ian Firth, Bibby
Kevin Yapp, General Manager for Primary Distribution at Morrisons, said: "The PCC model that has been developed specifically for us by Bibby Distribution has already delivered substantial benefits at the first two PCCs, which have been in operation since April 2013.
"The time is now right to expand out to a new region.
"Once all five planned PCCs are open by mid-2015, we expect to have taken out £20million of inventory whilst improving on-shelf availability."
The bespoke partnership also allows Morrisons to drive their InMotion programme, which increases backhaul revenue for the retailer.
The use of PCCs means Morrisons can use their own vehicles returning to distribution centres to collect loads from suppliers at backhaul rates rather than factory-gate pricing.
Ian Firth, Divisional Development Director at Bibby Distribution, said: "We've worked extremely closely with Morrisons to ensure they have the right solution.
"We've created their PCC model from scratch, helping support the deployment of their other programmes.
"We're delighted to have developed the physical solution that makes the most of Morrisons' existing and developing technology, and to have given them the security and peace of mind to benefit from future delivery network investment."
Bibby Distribution currently operate two PCCs for Morrisons in Corby and Yeadon, covering the Midlands and North of England respectively.
By the middle of 2015, the entire country will be covered by a PCC network.