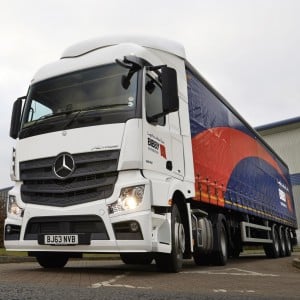 BULK: Bibby place 200-strong order
Bibby Distribution will receive 200 new Mercedes-Benz trucks over the next two years as they invest an incredible £20million in their fleet.
The first arrivals, 25 New Actros Euro V tractor units, will be in operation on the run-up to Christmas.
They have been specified with a narrow-cab for optimum manoeuvrability and will operate with a mix of standard length double-deck, single deck and short urban trailers.
Bibby will then receive 22 new 18tonne Antos rigids by the end of February, with each Euro VI vehicle mounted with a Bevan body and tail-lift.
At least 53 further Mercedes-Benz vehicles will enter the fleet in 2014, plus 100 more in 2015 – each meeting the new Euro VI standard.
Iain Speak, Chief Executive Officer at Bibby Distribution, said: "We've already invested a significant amount of money minimising the impact of our operations on the environment.
"Being amongst the first to introduce a fleet of Euro VI trucks is a natural next-step for our business in early 2014; we see no reason to delay.
"We've consulted closely with other operators already running Mercedes-Benz products and we like what we heard.
"Our engineering team have made detailed reliability and fuel performance comparisons with our existing vehicles and we're confident the New Antos and New Actros will prove to be strong assets for us."
Also part of Bibby Distribution's latest fleet investment plans are orders for 35 SDC trailers, including 19 tandem-axle 10m urban trailers and 16 tri-axle 13.7m models.
They have also ordered 13 new Don-Bur lifting-deck double-deck trailers.