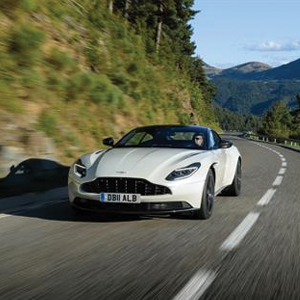 Aston Martin Holdings (UK) Ltd, the producer of luxury handcrafted sports cars, today reported record nine-month results on revenues up 84% to £567 million for the period ending September 30.
Continued strong demand for the DB11 helped drive a near fourfold increase in EBITDA to £121 million, whilst the company generated pre-tax profits of £22 million, reversing prior-year losses of £124 million.
Dr Andy Palmer, Aston Martin President and Chief Executive Officer, said: "Our strong financial performance and continued profitability reflects the growing appeal of our high-performance sports cars, with the new DB11 Volante and a new Vantage expected to stimulate further demand in the coming year. Our 'Second Century' transformation program continues to gain momentum, paving the way for an expanded global presence."
For the first nine months of the year, wholesale unit sales jumped 65% to 3,330, while average selling price rose to £150,000 reflecting an improved mix and higher uptake of options. The company also sold out its limited-edition Vanquish Zagato model.
For the three-month period to September 30, Aston Martin generated an operating profit of £8.6 million, compared with an operating loss of £8.5 million in the prior year quarter, on third quarter revenues that increased to £156.4 million from £96.6 million.
The company generated cash from operating activities of £150.3 million through the first nine months of 2017 and ended the period with £72 million of cash. Alongside its ongoing product renewal programme, Aston Martin has continued with the construction of its new St Athan manufacturing facility in Wales, where production of a new luxury sports utility vehicle is expected to begin in 2019.
Mark Wilson, Executive Vice President and Chief Financial Officer, said: "I am pleased to report that our performance has exceeded budget for 11 successive quarters and that revenue for the latest 12 months period continues to grow to record levels. Successful execution means the business is on track to outperform previous 2017 revenue and EBITDA guidance."
Aston Martin has revised its guidance for the full-year, reflecting the strong performance in the first nine-month period. Aston Martin now anticipates delivering EBITDA of at least £180 million on revenues of over £840 million, compared with previous guidance of £175 million and £830 million respectively.