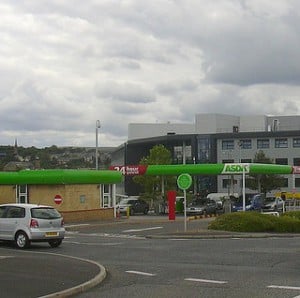 FAVE: Asda UK's favourite fueller
Asda is the nation's favourite petrol retailer, a study by Market Force has found.
The supermarket bagged the highest marks for customer advocacy in the survey of 1,500 consumers, scoring almost 50% on customers' likelihood to recommend it.
Sainsbury's, who topped the chart for overall satisfaction, came a close second, as supermarkets on the whole obliterated their branded counterparts.
Participants were asked questions primarily regarding consumer loyalty based on service, whether they would recommend their choice of petrol station, and convenience.
Overall, 67% of consumers said they preferred to refuel at their local supermarket due to price and convenience.
This was also consistent with Market Force's findings in other countries, including the US and France, as supermarkets challenge the dominance of the national brands.
When asked to rate their most recent petrol station experience, 40% gave a perfect score, 48% rated four out of five and 12% scored between one and three.
However, just 8% of respondents said they reported their concerns, admitting they rarely told petrol retailers of their dissatisfaction if it occurred.
Simon Boydell, Global Marketing Manager at Market Force, said: "There is a significant opportunity for petrol stations to increase their business by asking for customer input, and working on improving the customer experience based on that feedback.
"Market Force has found that delighted customers are three times more likely to recommend a business to friends, compared to neutral consumers.
"It's no surprise to fuel brands that consumers care most about price, but what this research shows is that consumers also make decisions based on the service and products they receive at their favourite locations." 
Image courtesy of mrrobertwade (wadey), with thanks.