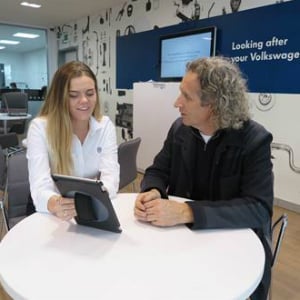 Volkswagen is rolling out a refreshing new attitude to the routine job of car servicing, maintenance and repair with the launch of its ground-breaking Aftersales Digital Reception (ADR) initiative.
Coming to Volkswagen Retailers across the UK throughout 2016, the ADR scheme introduces a welcoming new approach which keeps service customers informed every step of the way.  Using redesigned service reception areas, the very latest hand-held tablet technology and online 'explainer' videos, it gives drivers a more relaxed, enlightened and straightforward experience.
The ADR process has been created to give routine service customers a much clearer picture of what is happening to their car: from booking to job completion.  Beginning with the 'check-in' process it sees an expert Service Advisor greet the Volkswagen driver with an electronic tablet-based arrivals form and inspect their car – taking photographs of its condition if required – and talk them through the selected service/maintenance process.
Customers join their advisor in the new, informal, service reception and consultation area which, thanks in part to the hand-held tablet technology employed, does away with formal desks and the physical barrier of old-tech desktop computers.  The outline of work is discussed and the customer either opts to wait for it to be carried out, or takes advantage of a pre-booked lift, or courtesy car* to get on with their day.
As the car undergoes its 34-point visual check, carried out by a trained Volkswagen Service Technician, a video is created showing what work has been identified.  In the brief film the technician points out risks such as worn brake pads or tyres, and allows the customer to see for themselves any maintenance work required.  The video can then be sent straight to the customer's computer, or smartphone, for them to view and make a decision on before any work begins.
Other routine maintenance tasks, such as cambelt changes, can be discussed with the Service Advisor too and, if required, explained via a library of simple online animations created by Vehicle Visuals to help demystify modern servicing tasks.  These short 'explainer' videos work alongside a detailed website which includes all manner of maintenance information and explanations, such as a handy guide to the various warning lights and notifications which can appear in the instrument binnacle of a modern Volkswagen:http://www.volkswagen.co.uk/owners/warning-lights
The thinking behind the new ADR process is to keep customers better informed about, and more involved in, their car's servicing work at Volkswagen Retailers.  The initiative is rolling out across the brand's 227-strong Retailer network throughout the year, with 800-plus Service Advisors in the network undergoing detailed training online and at the Volkswagen National Learning Centre in Milton Keynes.
Kevin Rendell, Volkswagen UK's Head of Service and Parts Operations, said: "The Aftersales Digital Reception initiative has been many months in the making and is, we believe, a revolutionary approach to Volkswagen servicing and aftersales customer care.
"Advisors consulting with customers, technicians demonstrating what work needs to be done via video and simple online explanations showing why work has to be carried out all combine to make the service process much less intimidating.
"The ADR initiative brings a revolutionary 21st Century retailing approach into what has, hitherto, sometimes felt like a process that has changed only slowly for decades.  We are now keen to hear how our owners feel about this new-style aftersales service and very much welcome feedback."