125 quality classic cars will be offered at auction at the NEC Classic Motor Show on 10th and 11th November during the Lancaster Insurance Classic Motor Show with Discovery.
Headlining Silverstone Auctions season finale sale is a beautiful 1973 Ferrari 365 GTB/4 Daytona Spyder Conversion estimated at £450,000 to £550,000. Finished in its original colour of Verde Pino with a tan leather interior, the car was converted to Spyder configuration in 1987 by Maranello Concessionaires. Joining the Daytona is a 1973 Ferrari Dino 246 GTS, one of only 235 UK supplied cars. Estimated at £280,000 to £320,000 the Dino is showing just 60,482 miles and is finished in its original colour of Argento Auteuil.
Following the Ferraris is a trio of rare Flachbau Porsches, the first of which is a 1985 911 (930) Turbo SE. Believed to be the first Flachbau in the UK and the original factory press car, it is finished in an attractive shade of Metallic Silver with a Can-Can red interior and is estimated at £155,000 to £175,000. The second Flachbau in the sale is a 1989 911 (930) Turbo estimated at £130,000 to £150,000. Presented in stunning Guards Red with a black interior, it has covered just 12,800 miles. The third car is a 1986 911 (930) Turbo SE finished in a beautiful shade of Minerva Blue with an ivory and blue interior. Estimated at £135,000 to £155,000, the car has covered just 33,791 miles.
"The NEC Classic Motor Show Sale is always a highlight of our auction year and the variety of cars on offer this year is really spectacular", says Harry Whale, classic car specialist at Silverstone Auctions. "From highly collectable Ferraris to a Volkswagen XL1. We also have a host of celebrity owned classics including Steve McQueen's Jeep and Frank Sinatra's Rolls-Royce, as well as a whole collection of cars from Jay Kay of Jamiroquai".
A number of low mileage fast Fords on offer at the sale include a 1991 Fiesta RS Turbo with only 3,882 miles estimated at £25,000 to £30,000, a 1989 Escort RS Turbo S2 with only 37,342 miles estimated at £20,000 to £25,000 and a Concours winning 1993 Escort RS Cosworth Big Turbo model with only 28,000 miles and estimated at £50,000 to £60,000.
The sale sees a strong representation of Aston Martins on offer with 14 in total. Leading the Astons is a gorgeous 1966 DB6 Automatic Sports Saloon estimated at £200,000 to £230,000. Finished in its original colour of California Sage Green with a tan leather interior, the car has covered just 75,000 miles.
The Sunday sale sees a number of high profile former celebrity cars offered including Frank Sinatra's 1984 Roll-Royce Corniche Convertible estimated at £105,000 to £125,000, Steve McQueen's 1945 Willys Jeep estimated at £80,000 to £100,000, Jenson Button MBE's 2005 BMW M5 estimated at £35,000 to £40,000 and Noel Edmond's 1974 Jaguar E-Type Series III V12 Roadster estimated at £85,000 to £100,000.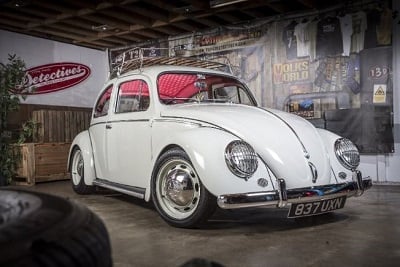 A 1958 Volkswagen Beetle in the sale is to be offered for charity with all proceeds including premium going to benefit the Brain Tumour Research Centre in Birmingham. The Beetle was fully restored for Channel 4's For the love of cars in 2015 and has since been treated to more than £15,000 of work by marque specialists at Type 2 Detectives which included the fitting of standard suspension, a new 1.6-litre petrol engine, and front disc brakes.
For more information on any of the lots featured in the NEC Classic Motor Show Sale please visit: http://www.silverstoneauctions.com/nec-classic-motor-show-sale-2018/view_lots/pn/all.