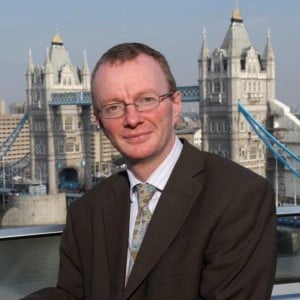 EXPERT: Dr Peter Speers, of Transport KTN
In our latest Expert Blog, Dr Peter Speers, Scientist and Consultant at the Transport Knowledge Transfer Network (Transport KTN), gives his take on how two key concepts are increasingly inseparable…
Operating a commercial fleet in the UK requires balancing the needs of multiple stakeholders:
What do fleet managers want?
In general, they need to source reliable vehicles that can do the job at the lowest cost.
In making a vehicle purchasing decision, most fleets consider the total cost of ownership of their vehicles, including fuel and maintenance costs over the ownership cycle, although for smaller fleets with cash flow concerns the upfront purchase cost of vehicles becomes almost as big a consideration.
What does management want?
They want their goods and/or people moved as quickly and cost-effectively as possible.
What do the Corporate Social Responsibility people want?
They'd like organisations to take a lead in reducing their carbon footprint.
Fleet operations are often the most visible aspect of a company's operations.
Reducing the fleet's carbon footprint means consideration of alternative fuels (electricity, hydrogen and natural gas/biomethane) and technologies (dual fuel or electric drive trains).
What does the government want?
Under the Climate Change Act and Carbon Budgets, the UK must essentially completely decarbonise road transport by 2050 to ensure that overall emissions are cut by 80% compared to the 1990 baseline.
The Government is also coming under threats of huge fines on air quality emissions, and so needs to ensure industry compliance with regulations on other vehicle emissions.
For trucks the regulatory emphasis since 1990 has been on reducing NOx and PM emissions, from Euro 1 regulations introduced in 1993 through to the latest Euro 6 trucks now being showcased.
Contrary to technology trends for passenger cars, Euro 6 trucks are not expected to show real world fuel economy savings compared with Euro 5 equivalents and whilst industry experts expect the emphasis of future truck engine emissions regulations to switch over to CO2 reduction, the next set of standards are yet to be defined.
So…?
The combination of fuel/energy efficiency and intelligent use of mobility assets to move goods and people therefore satisfies all stakeholders.
Published in 2011, the Department for Transport's Logistics Growth Review highlighted the importance of the UK logistics sector – which contributes 9% of UK GVA and around 7% of total employment – and the potential of alternative fuels to deliver emissions and fuel efficiency savings of at least 15%.
However, it also highlighted scepticism on the part of fleet operators to introduce alternative fuels into their operations given the lack of robust real-world evidence of their use, impact on operations and long-term certainty on fuel duty.
At the Transport Knowledge Transfer Network (Transport KTN) we are part of the Low Emission HGV Task force, a joint-industry government forum which is considering ways of removing some of the barriers to sustainable logistics growth highlighted in the Logistics Growth Review.
Among the barriers identified was lack of a national gas refuelling network, and lack of a single source of information on the location of current refuelling stations.
To help tackle this, we have supported the creation of the Gas Vehicle Hub website which maps the location of UK gas refuelling stations and fleet users, biomethane production and the Low Carbon Truck Trial consortia.
In the area of energy efficiency, scepticism on emission and fuel savings is being tackled through ongoing technology trials, such as the current Department for Transport-sponsored Low Carbon Truck Trial of natural gas, biomethane and dual fuel vehicles.
These trials are crucial to provide the evidence base to de-risk investments for first time users of alternative fuels and technologies.
When the first results of these trials are available, the TKTN will be responsible for dissemination of the outcomes to the wider community through media and events.
The Logistics Growth Review highlighted that organisations use all modes of transport – road, rail and water – to move goods in the most efficient and cost-effective manner.
Feedback from logistics operators however indicates a perceived lack of 'joined-up' thinking on behalf of Government with interventions, particularly fiscal instruments such as fuel duty.
Although it has proven predictably difficult to get HMG to make fiscal commitments that go beyond any given Comprehensive Spending Review period, there is growing evidence that Governments and funding agencies are looking at the movement of people and good in a more integrated way.
The Technology Strategy Board recently announced a £500,000 Integrated Transport In-field Solutions feasibility studies competition which aims to address the challenges of transport efficiency through integration.
This will precede a much larger £10million collaborative R&D call aimed at demonstrating the proposed solutions through in-field trials.
Although full details are available on the competition website, a key aim of the competition is to showcase the integration of multiple transport systems, products and services.
The recent Clean Power for Transport proposals from the European Commission also demonstrates that thinking is shifting towards the integration of all modes and fuels via strategic hubs and corridors.
Clean Power for Transport remains a proposal, and whatever its eventual outputs it is clear that deployed refuelling infrastructure must be deployed intelligently to take account of local demand and, eventually, efficient and sustainable sources of supply.
The Transport KTN's mission is to support the development of integrated, efficient and sustainable transport systems, by bringing together independent but interrelated organisations to stimulate innovation through knowledge transfer.
Our two primary themes are energy efficiency and intelligent mobility.
The recent funding opportunities highlighted above show that these concepts are increasingly coming together.
Efficient mobility perhaps?