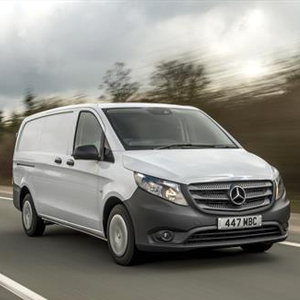 Mercedes-Benz Vans UK Ltd has launched a Scrappage and Swappage programme to enable van owners and operators to change their older model vans for cleaner EU6 models that have the latest technological advancements.
In recent times there have been high-profile reports of the damaging effects of older diesel engines on the environment and, in addition, many larger cities are looking at introducing charges for these vehicles entering their central zones, which has prompted Mercedes-Benz Vans UK to launch a Scrappage and Swappage programme to provide a solution for this.
For owners of EU1 – EU3 vehicles, the Scrappage programme gives customers the opportunity to get a new Mercedes-Benz van or an EU6 Approved Used vehicle, while their old van is scrapped. The Scrappage programme offers customers a deposit contribution of between £1,000 and £5,600, depending on the model (excluding VAT).
The Swappage programme is aimed at both retail and small fleets of up to 24 EU4 – EU5 vans. These customers will be able to 'swap' these older vehicles for a new, EU6 Mercedes-Benz van with the support of an additional deposit contribution between £2,000 and £5,100, depending on the model (excluding VAT).
Steve Bridge, Managing Director, Mercedes-Benz Vans UK Ltd, commented: "I'm not surprised that most of the headline-grabbing scrappage schemes available to motorists have been received with a degree of scepticism by the media and the general public; it isn't always financially viable for someone to come out of an aged vehicle straight in to a new van.
"This is why we have explored all our options in terms of genuinely supporting customers to be in cleaner, newer models as this doesn't always mean a new van; we've been offering EU6 on some models since 2015. To offer a Scrappage and Swappage programme supports our commitment to having the safest and cleanest vans on the road and underpins our pledge to keep Britain's businesses moving."