Electric car drivers need to protect themselves from volatility in the used car market, following Tesla's dramatic decision last week to slash the prices of its two best selling cars, the Model 3 and Model Y, by up to £8,000.
Steve Tigar, CEO and Founder of loveelectric, said cuts on this scale could undermine the value of secondhand cars, which have to be priced significantly cheaper than new models to attract buyers. As the market leader in electric vehicles (EVs), Tesla's move could trigger a price war among rival car makers and weaken the values of all used electric cars.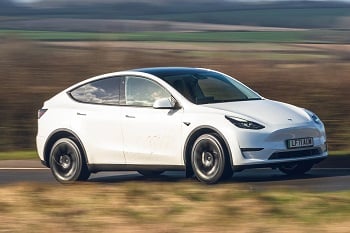 "Downward pressures on the residual values (used prices) of electric cars are intensifying," said Tigar. "The cost-of-living crisis allied to rising interest rates for car finance is limiting the budgets of used car buyers, while the growing supply of used electric cars risks temporarily exceeding demand."
Earlier this month, cap hpi, the motor industry's respected used car pricing guide, warned that secondhand electric cars have become the most challenging models to sell, which in some cases is leading to "prices being slashed in order to move them on." [1]
And just this week, auction giant Aston Barclay reported that the average price of used EVs fell by nearly £5,000 in the last quarter of 2022.[2]
This volatility is to be expected for new technology and will calm down as the 2030 ban on the sale of new vehicles with petrol or diesel engines approaches, said Tigar.
"There is an unstoppable momentum building behind electric cars – they're great to drive, electricity is much cheaper than petrol or diesel, and, of course, they are a vital answer to both local air pollution and climate change," he said.
For the next few years, however, electric car drivers need to find ways to shelter themselves from wild swings in the used values of their cars – motorists often rely on equity in their current car as a down payment for its replacement.
"Leasing provides the perfect solution. The driver pays a fixed monthly rental, regardless of what is happening in the used car market, and the leasing company carries all the risk of what the car will be worth at the end of the contract," said Tigar.
"And salary sacrifice is better still, offering an all-inclusive lease (with service, maintenance and insurance) that the driver can fund through their gross salary, saving up to 60% in tax and national insurance compared to leasing a car directly from a broker or dealer. Salary sacrifice even makes it cheaper for most people to fund a new EV than privately finance a used EV."
---
[1]  https://cap-hpi.exposecms.com/file-uploads/20221221155636_Car-Market-Overview-Jan-23.pdf