Volkswagen Commercial Vehicles is supporting the revised HIP and SPARKS Apprentice of the Year 2020 finals as they search for the best electricians and plumbers of the future. The brand is loaning three Transporter 6.1 vans – two panel vans and one Kombi – to help transport the equipment across the country.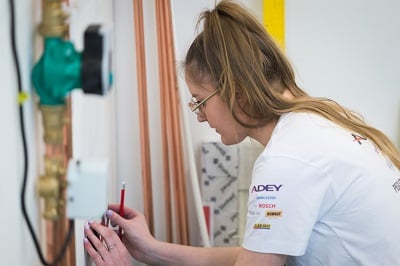 Seven regional heats took place between January and March, supported by Volkswagen Commercial Vehicles' Caddy and Crafter vans, with dozens of competitors looking to win the Apprentice of the Year title, before the COVID-19 lockdown caused the competitions to be postponed.
The format of the competition has now been revised to fit with current COVID-19 guidelines, ensuring the safety of all participants.
Each regional winner from the heats earlier this year will complete a short online written test. The results of which will then be combined with the participants' score from the regional heats to find the top three finalists.
The three finalists will then complete a one-day practical assessment at their own colleges in a bid to be named this year's HIP or SPARKS Apprentice of the Year 2020. The SPARKS final will take place on Thursday 24th September and the HIP final will take place on Tuesday 29th September. The winners will be announced on the same day of each final.
The Volkswagen Transporter 6.1 vans will be used to transport equipment for the live challenges to each finalists' practical assessment. With the live challenges featuring shower/boiler repairs for the plumbers and wiring, bulbs and switch tests for electricians, the vans will be crucial to ensure each finalist has all the correct equipment for their tasks – demonstrating their payload of up to 1,309kg and load volume of up to 9.3m.
The Transporter 6.1 is the latest iteration of the iconic panel van. It features an enhanced specification with a new electro-mechanical power steering system not only improving on-road performance, but also enabling the fitment of a number of standard and optional safety and assistance features.
David Hanna, Volkswagen Commercial Vehicles' Head of Aftersales, said: "We are delighted to be able to support these well-established competitions which help to develop the next generation of plumbers and electricians. The HIP and SPARKS Apprentice of the Year 2020 competitions needed a reliable way to transport its equipment and it's a pleasure to loan three of our latest Transporter 6.1 vans to support with this.
"It's excellent news that the finals can go ahead with this revised format, recognising all of the hard work of the competitors and crowning two winners while of course maintaining the safety of all those involved. Good luck to the finalists and well done to all those who have taken part."