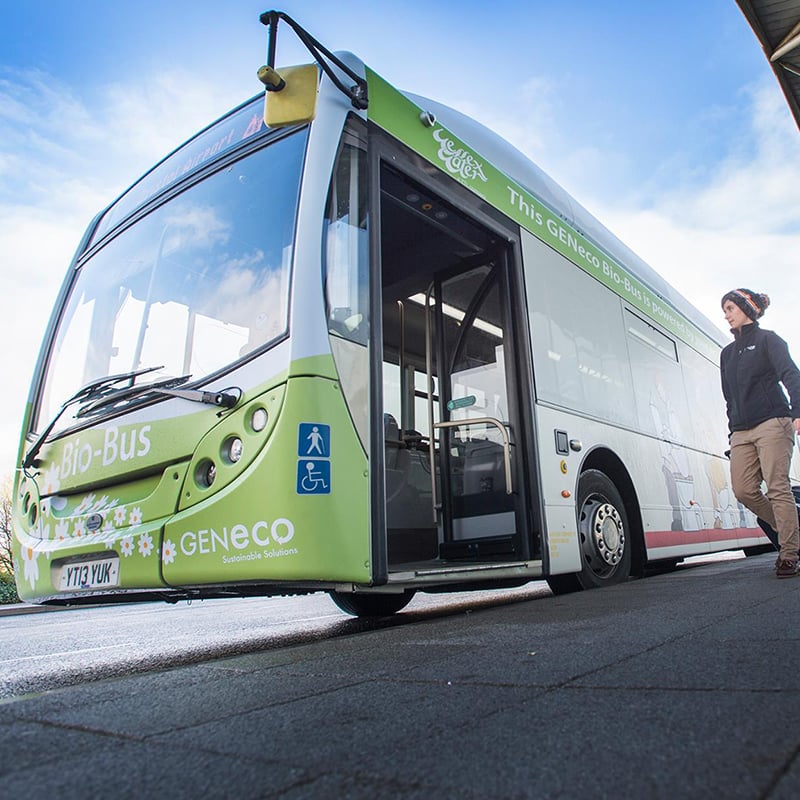 The bus makes fewer emissions than traditional diesel engines.
Unsure if it will be the 'Number 2' service
The UK's first bus powered entirely by human and food waste has gone into service between Bristol and Bath.
The 40-seater Bio-Bus, which runs on gas generated through the treatment of sewage and food waste, helps to improve urban air quality as it produces fewer emissions than traditional diesel engines.
Running on waste products that are both renewable and sustainable, the bus can travel up to 300km on a full tank of gas generated at Bristol sewage treatment works – a plant run by GENeco, a subsidiary of Wessex Water.
GENeco general manager Mohammed Saddiq said: "Through treating sewage and food thats unfit for human consumption we're able to produce enough biomethane to provide a significant supply of gas to the national gas network that's capable of powering almost 8,500 homes as well as fuelling the Bio-Bus.
"Gas powered vehicles have an important role to play in improving air quality in UK cities, but the Bio-Bus goes further than that and is actually powered by people living in the local area, including quite possibly those on the bus itself.
Bristol sewage treatment works treats around 75 million cubic metres of sewage waste and 35,000 tonnes of food waste, collected from households, supermarkets and food manufacturers, every year.
Using the annual waste generated from one bus load of passengers, would provide enough power for it to travel a return journey from Lands End to John O'Groats.
Collin Field, engineering director, at Bath Bus Company, said: "Up to 10,000 passengers are expected to travel on the A4 service in a month, which is available not only for airport travel, but also local journeys along the route through Saltford, Keynsham, Brislington, Knowle and Hengrove.
"The timing of this initiative could not be more appropriate as we approach 2015 when the City of Bristol itself becomes European Green Capital. With so much attention being directed towards improving air quality generally, the public reaction to the appearance of this bus on a service between a World Heritage City and an airport will further focus on the potential for this particular fuel."
The Bio-Bus has received backing from a number of businesses including the manufacturer of the bus, Scania, as well as companies including Roadgas, CNG Services Ltd, Dampney's Agri Environmental, Trant, Grontmij and AIR Decker.