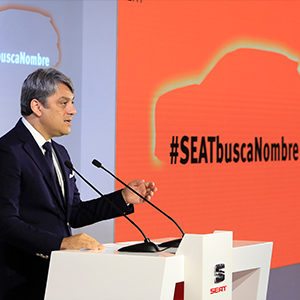 The project #SEATseekingName, where the Barcelona-based brand asked members of the public to name its third SUV, has succeeded in attracting huge participation from 133,332 members of the public in 106 countries.
The first stage, which opened on 1st June, finished yesterday after receiving a total of 10,130 different Spanish place names, which was the criteria set out by the company for its 2018 SUV, submitted through seat.com/seekingname and seat.es/buscanombre.
Since SEAT announced in March that it was going to launch its new SUV, the brand had already received more than 500 proposals of different place names from all over Spain for its new vehicle with capacity for up to seven passengers.
The expectations and social impact achieved prompted the company to redefine its habitual naming process, opening it up to brand followers in Spain and around the world, for them to propose their favourite name and then vote for the winner.
SEAT President Luca de Meo expressed his satisfaction with the massive response to this project: "The results obtained have overwhelmingly exceeded all expectations. Not only has this collaborative initiative sparked great interest among our brand followers, but thousands of other people have also contributed by proposing a name for our new SUV. We're counting on them to vote for their favourite candidate in September".
With the first stage now finished, it is time for the pre-selection phase of the proposals, involving brand experts and an external naming agency, as well as customers from different countries who will be participating in the focus groups organised by SEAT.
In addition, testing will be carried out in the markets to select at least three names which will be voted on. In this stage certain criteria will be observed, such as that the names are in line with the brand values and product characteristics and that they are easy to pronounce in several languages.
SEAT will announce the names of the finalists at the Frankfurt Motor Show. Anybody wishing to cast a vote for their favourite candidate will have the chance from 12 to 25 September, and the name with the most votes will be the winner, which SEAT will announce by 15 October.
In this fashion, the company's third SUV will join the list of 13 models that have been named after a place name from Spanish geography. It started in 1982 with the Ronda up to the most recent Arona (Tenerife), the compact crossover which will be unveiled on 26 June in Barcelona. In addition, it will be the first time in the history of the brand that a model carries a name selected by popular vote.