Range Rover Sport Gets Set To GLOHH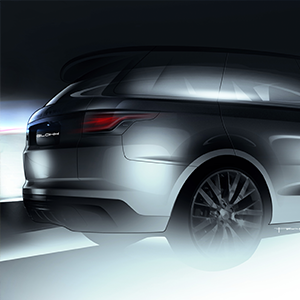 Incorporating Glohh's unique design philosophy and using the very latest 'chip LEDs' providing up to 60,000 hours of life, the GL-5 features a 3D brake light for visibly brighter light scatter to enhance safety.
A Dynamic Indicator flowing across the entire width of the taillight employs LEDs packed closely together for maximum brightness, while the reverse light is discreetly blended into the design without compromising on illumination.
In a dramatic first for an automotive taillight, the design features an interchangeable aerodynamic fin styled to blend with the Range Rover Sport's sleek profile. Further adding to the appearance and improving airflow, the fin will be available in carbon fibre, satin and chrome- satin finishes.
In developing the new Range Rover Sport taillight, Glohh's designers worked in harmony with the vehicle's design language to create a distinctively enhanced appearance. 'Glohh's rear light for the latest Range Rover Sport will reach a whole new level of sophistication, technology and design', says Brandon Smalley, a spokesperson for Glohh. 'Glohh will deliver a breath-taking new product, featuring innovations never seen before on an automotive taillight. This enhancement condenses contemporary style, innovation and technologies into a refined high-tech product, offering an exclusive new look to the model'.
But it's not all about design – the GL-5 has been subjected to a variety of gruelling tests including severe heat, torrential rain, 100% humidity and an extreme ageing process to ensure long service life in a wide range of environments.
The Glohh GL-5 taillight is designed for the latest Range Rover Sport (2013-on). It will be available before the end of 2017 direct from www.glohh.com and authorised distributors located world-wide.
Key Features:
–  Designed for the latest Range Rover Sport (2013-on).
–  Vehicle-enhancing Glohh signature design theme.
–  Dynamic turn signal with enhanced sweeping effect.
–  3D brake light with visibly brighter illumination.
–  Discreet reversing light with uncompromised light output.
–  World-first aerodynamic fin in carbon-fibre, brushed aluminium, or satin finishes.
–  Comprehensively tested for reliability and long life.
About Glohh
Glohh was founded in 2011 to design and market state-of-the-art exclusive automotive lighting. Their first product was launched in 2013, named the GL-3 taillight and specifically designed for the Range Rover Sport L320. This was replaced in 2015 with GL-3 Dynamic which offered a 'Dynamic Indicator' and enhanced aerodynamics among other improvements. As well as the new GL-5 taillight for the latest Range Rover Sport, Glohh is planning other new innovative lighting products for other luxury vehicles, each with the distinctive Glohh design signature.
Related Stories