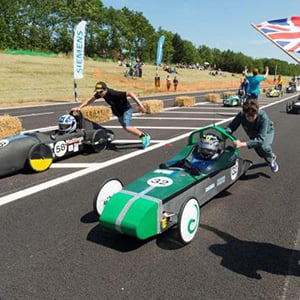 Ford Dunton Technical Centre hosted the Essex regional heat of the Greenpower IET Formula 24 on Saturday, July 18, which attracted around 250 students and more than 20 cars.
The IET annual Formula 24 competition provides teenage students with the opportunity to build an electric car from scratch, and then push it to its limits in an endurance race.
The top three teams were the Chatham and Clarendon Grammar School, Tendring Tornedoes and The Royal Greenwich University Technical College and they automatically qualify for the international final, which will be held at the Rockingham Motor Speedway on October 10th.
Other awards included the Portfolio Award, the Best Presented Team, Spirit of Greenpower, Best Newcomer, IET Engineering Award and the Siemens Digital Award.
In presenting the awards, Chris Taylor, Powertrain Testing Chief Engineer, Ford of Europe, said: "Ford is delighted to be hosting the Greenpower F24 competition at Dunton once again.  These young engineers show amazing skill, enthusiasm and potential and we at Ford are proud to help them develop their technical and teamwork talents."
Nicola Gregory, Ford Community & Outreach, said: "This was the biggest and best Greenpower event Dunton has hosted. With 22 cars registered, every student had a part to play on the day, making this a marvelous STEM initiative that also encourages young women to consider an engineering career."
Greenpower Challenge encourages involvement in science and maths subjects from an early age. Ford is committed to engaging with young people through activities such as 'bring a child to work day', Lego challenge, and initiatives connected with National Women in Engineering Day, and encouraging the study of science, technology, engineering and maths (STEM) subjects. This supports the pledges made by Ford to the 'Your Life'* campaign, to inspire the next generation of engineers.