Vehicles parked during lockdown are being targeted by criminals stealing catalytic converters for their precious metals, according to the RAC and Ageas.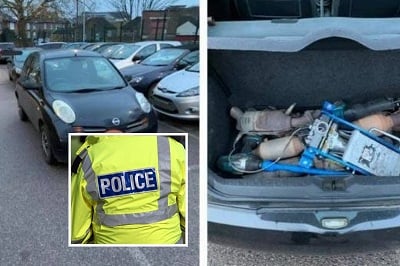 There has been a "marked rise" in the theft of catalytic converters since the start of the first lockdown just over a year ago, says Ageas Insurance.
Three-in-10 of all theft claims reported are now related to catalytic converters. Before the lockdown catalytic converter theft only accounted for around one-in-five.
Ageas reports that most thefts have happened while cars have been parked at home, either on the driveway or the road. However, the insurer says that in a very small number of cases thieves had targeted vehicles in supermarket car parks while the driver was shopping.
"Drivers are often oblivious of their vehicle's catalytic converter being stolen," said RAC spokesman Simon Williams. "Our patrols are often called to attend cars that have suddenly become excessively noisy. On investigation it's very often the case that the car's catalytic converter has been stolen."
Part of a car's exhaust system, catalytic converters contain a honeycomb coated with precious metals such as platinum, palladium and rhodium which help to filter harmful gases from the vehicles' exhaust systems.
The RAC says that when the global value of these metals increase it usually leads to a spike in thefts. Prices of rhodium hit a record highs earlier this year, up more than 200% since March 2020.
The RAC is recommending drivers and fleets get in the habit of taking extra precautions to guard against this type of crime.
With, most offences taking place at night, the RAC says it makes sense to park a vehicle in a well-lit and residential location or a garage if available.
"When away from home, look for car parks that have security patrols and are covered by CCTV," added Williams. "It's also a good idea to look for the ParkMark logo at car parks as this shows they have met certain security standards."
However, as Ageas' data shows, Williams says that even taking sensible precautions may not necessarily make you immune to this type of crime.
Robin Challand, claims director at Ageas, said: "While catalytic converters are just one component of a car, their theft can often result in a driver's car being written off.
"We hope that by shining a spotlight on this type of crime, we can arm motorists with the information they need to protect their vehicles."
The warning for fleets from Ageas and the RAC comes after CompareTheMarket reported that catalytic converter thefts had increased across England, last year.
It analysed police data which revealed London has the highest instances of catalytic converter thefts over the three-year period, and each individual year, with a total of 15,237 from 2017 to 2020. Birmingham saw the second-highest amount of thefts.
Further details on the study by CompareTheMarket can be found here.