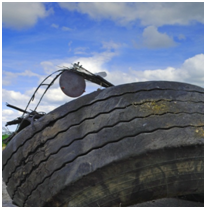 HORROR: Tyre failures can be fatal
Shocking video footage of a chaotic HGV motorway tyre failure has been unveiled by the Highways Agency and TyreSafe.
Released to mark Tyre Safety Month, the CCTV footage – shot by a motorway camera – shows a HGV smashing uncontrollably into the central reservation following a blow-out.
The video, seen below, is one of several released by the Highways Agency in their drive to highlight the true cost of dangerous or illegal tyres.
Stuart Jackson, Chairman of TyreSafe, said: "Many people incorrectly assume that if their tyre fails, they'll simply pull onto safety of the hard shoulder.
"However, as this startling clip shows, when a tyre fails, the results can be dramatic, beyond control and incredibly frightening.
"The clips really do emphasise why it's important to check your tyres regularly."
Another clip shows how Highways Agency officers have to close all three lanes of a motorway to retrieve debris from a tyre failure.
A third CCTV video highlights a truck catching fire due to a tyre failure, leading to a full motorway closure costing several million pounds.
Both clips can be viewed below.
Simon Sheldon-Wilson, Traffic Management Director at TyreSafe, added: "By taking a few minutes to check your tyres, you could save yourself the distress, cost and possibly very serious consequences of having a tyre blow-out at high speed.
"A tyre failure can happen suddenly in fast-moving traffic, putting everyone at increased risk.
"Tyre debris in live lanes can cause danger for others, and our staff have to stop traffic and cross the carriageway to retrieve it."
Tyre-related problems are a major cause for concern on the UK's roads, with more than 15,000 breakdowns per year on English motorways.
However, TyreSafe are advising that many problems can be easily avoided by regular tyre checks.
As well as checking that tyres are correctly inflated monthly, tread depths should also be checked to ensure they meet the legal minimum standards.
Tyres should also be inspected for any cuts, lumps or bulges in the sidewall.