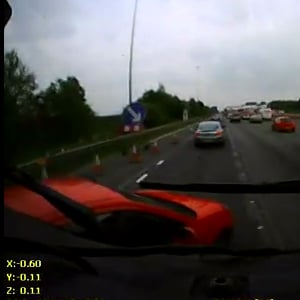 Footage showing a car colliding with a HGV on a busy motorway in a dangerous filtering incident has been captured by a SmartWitness CCTV camera.
The footage, captured last month, shows a Ford Focus being shunted along the hard shoulder of the M6 after striking the side of a Malcolm Group lorry.
It had run out of filtering space as it tried to join the motorway, hitting the HGV after the driver failed to wait for a space behind it.
The CCTV footage seemingly showed the car driver was at fault, with insurers for the car driver settling the claim as soon as the video was produced.
Malcolm Group have fitted SmartWitness in-vehicle CCTV to their entire 500-strong fleet, with Allan Campbell, Technical Engineer, claiming the cameras had significantly improved road safety.
"It is one of a number of measures we have introduced to improve safety – and it has been money well spent," he said.
"In this instance, the claim was settled very quickly at no cost to Malcolm Group.
"Before we installed the cameras, we could often end in messy situations where neither side was accepting blame.
"In these instances, the courts could often side against the haulier even when their driver was completely blameless due the lack of incontrovertible evidence.
"That is no longer the case now we have SmartWitness journey recorders.
"The key question – who's to blame? – can be established very quickly, and insurance claims are settled within days instead of months, without any of the added costs.
"Crucially for Malcolm Group, we are aware when our drivers are at fault and can embark on additional training where necessary.
"The fact that drivers are aware that their driving is being monitored makes them extra vigilant – also ensuring improved road safety."