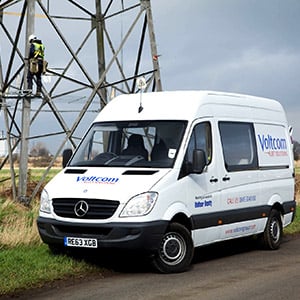 EFFICIENT: New Sprinters hailed
Voltcom Group have hailed the efficiency of ten recently-acquired, specially-adapted Mercedes-Benz Sprinters.
The 313 CDIs with medium-length bodies, purchased from Rossetts Commercials, have been converted by bodybuilder Cardiff Truck and Bus for use as 'Welfare Vans'.
Each Sprinter is fitted with five extra seats and a table in the rear, as well as a galley with a sink with hot and cold taps, a microwave and a hot drinks dispenser.
There is also a separate compartment at the rear incorporating a second sink unit, a drying area for wet clothes and an electric flush toilet.
John Nash, Director at Voltcom Group, said: "We chose the Sprinter because of its unrivalled reputation for reliability, durability and competitive running costs, and because it is an ideal base chassis for our conversion.
"These vehicles are used on site by operatives who often find themselves working in very inhospitable areas far away from any recognised amenities.
"The Welfare Van gives them a base for breaks, as well as serving as a meeting point for staff working in different areas.
"These vehicles are a vital support mechanism for operatives working in the field.
"They really appreciate having somewhere warm and comfortable to clean up, relax for a while and have something to eat and drink before going back out to work."