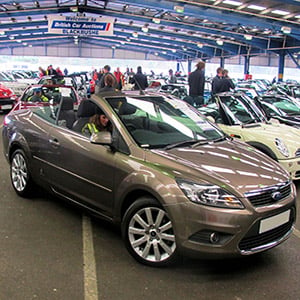 KICK-OFF: First convertible sale of year for BCA
'Convertible season' is set to begin at British Car Auctions (BCA), with 250 Lex Autolease and Black Horse vehicles going under the hammer on Saturday.
Hosted at BCA Blackbushe, Surrey, the offering is part of the two-day Grand Mega Sale that will offer 1,000 vehicles in total.
Tim Naylor, Editor of BCA's Annual Used Car Market Report, said: "There is a well-defined element of seasonality attached to the sales of convertibles, which tend to do much better in the spring and summer months.
"Despite our notoriously changeable weather, British motorists buy more convertibles than our European cousins and interest rises as the warmer months approach.
"BCA holds well-marketed, high profile convertible sales in the spring months to meet this increased demand which attract large numbers of buyers.
"With a broad selection of stock ranging in value from under £4,000 to over £50,000 and a huge range of makes and models from family hatchbacks and city cars to convertibles, prestige and sporting models, there really is something for everyone in this Grand Event."