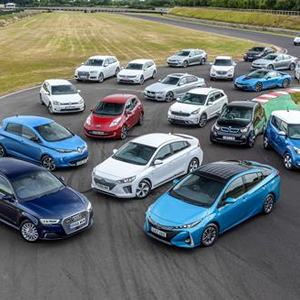 The upsurge of electric car sales has seen more of them on our roads in recent years. According to Nextgreencar, the number of new registrations of electric vehicles has risen from 3,500 in 2013 to 85,000 by the end of 2016, proving the electric vehicle market is a progressively strong industry.
With little battery life, a lack of charging points and expensive prices being the main fall backs in the market so far, is the market beginning to turn a corner as costs start to decline and the range and performance improves?
Electric cars have been breaking records this year when it comes to sales and popularity. The Society of Motor Manufacturers and Traders (SMMT) reported that registrations of new electric vehicles hit a 12-year high in January this year, reaching a record 4.6% share in UK new car registrations, up from 3.6% in November 2016.
Globally, the electric market has accelerated past the two million mark, with China, USA and Europe accounting for more than 90% of the electric vehicle sales in 2016. It's now expected to continue to rise following the news that Norway has a plan in action to eliminate petrol and diesel cars by 2025, and Germany by 2030.
Following in the footsteps of some of their neighbouring countries, the UK is planning to ban the sales of all petrol and diesel-powered cars and vans by 2040. This would suggest that the UK is moving towards an all-electric vehicle nation.
Is it now time for electric vehicles to dominate our roads? Recent figures and news would suggest so. Here, VW dealership, Vindis Group explore how electric-powered engines are helping CO2 emissions and what the future looks like for the market.
Lowering your carbon footprint
Environmentally conscious individuals are turning to an electric car to reduce their carbon footprint in light of an abundance of research showing the pollution levels of petrol and diesel cars. It's no wonder countries are planning to stop the production of petrol and diesel cars in the future. Electric cars have the potential to reduce carbon emissions in the atmosphere, depending on the type of electricity that charges the battery. They are only as green as their 'juice' is. Batteries which are powered by coal actually do nothing to cut emissions – it's the natural gas electricity power that helps to reduce CO2 emissions. Natural gas electricity can result in less than half of the total emissions of the best combustion vehicle, including the manufacturing processes.
What does the current market look like?
The electric market hasn't always grown at the rate that it is now. In 2013, just 3,500 new electric vehicles were registered. However, the market has shown promising progression in the past few years. One indication of the electric vehicle growth might be seen in the huge shift away from diesels that's underway across Europe, where its market share has fallen by 3.6% over the last year.
As people back away from diesel cars, electric vehicle sales grow. Back in 2014, on average around 500 electric vehicles were registered per month – compared with 2017, where in the first seven months of the year, almost 26,000 cars have been registered, averaging just over 3,700 cars per month. It's a dramatic increase on 2014's figures.
What does the future hold?
The interest in electric cars does not show any signs of slowing down, and with countries announcing the banning of diesel and petrol, it'll be difficult for people to turn back. If plans to eliminate petrol and diesel cars in the UK by 2040 succeed, cities of electric cars will be cleaner and quieter than our present roads.
The industry does have some negatives though, and this is what seems to be preventing the nation from going fully electric. This means lighter batteries with longer amounts of charges and quicker charging periods being required across all models. Thankfully, some models with these points in mind have already started to appear on the market and global investment should ensure the progress continues.
Car brands have recognised the interest in electric and many of the super brands have gone on to design their own models. BMW and MINI revealed new electric plans in July, confirming the MINI EV. Mercedes have also announced their plan to enter Formula E, with the likes of Audi, BMW, Porsche and Jaguar as they attempt an all-electric racing series too.
When it comes to addressing global warming through changing driver habits, Germany and Norway are leading the way as they work towards their cleaner air goals. It's time for the UK to put a strategy in action. If plans are to go as planned, petrol and diesel vehicles will be taken off sale from 2040, meaning electric-only vehicles will be all that are sold on the market. This is something both drivers and brands need to keep in mind within the years approaching 2040.
Reported John Hannen by edited by Kyle Lindsay