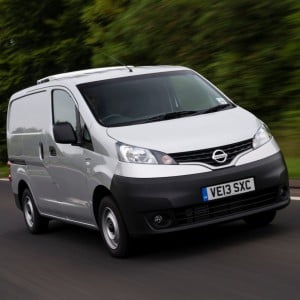 COOL: New Nissan NV200 Fridge van
Nissan are launching a new NV200 Fridge van, in response to strong fleet and business demand for a bespoke refrigerated vehicle.
Priced from £19,375, the 57.7mpg, 129g/km CO2 LCV is aimed at fresh food and catering businesses, and comes with a standard three-year Nissan warranty.
The NV200 Fridge van can refrigerate to 0°C and still leave 2.2m³ of pure load space, with an interior lined with an insulated cell.
The Carrier compact cooling unit is roof-mounted, with a slight protrusion on the vehicle's top the only external difference from the standard NV200, with just a 215kg weight gain.
It offers an overnight standby feature with the vehicle able to be plugged into a 230V socket to ensure the contents are kept cold.
There is also a temperature indicator and control unit in the cab that allows conditions in the refrigerated compartment to be both monitored and controlled.
Barry Beeston, Corporate Sales Director of Nissan, said: "A lot of great work has gone into developing the NV200 Fridge as the ideal solution for any fresh food company's transportation needs.
"With the conversion adding little weight to the vehicle, the driving quality and the nimble performance of the base NV200 is maintained.
"Customers will also take advantage over after-market conversions as the NV200 Fridge comes complete with our comprehensive three-year warranty."