Seat UK Sales Soar To Record Heights
By Kyle Lindsay
Thursday, April 13, 2017 - 09:00
Comments (0)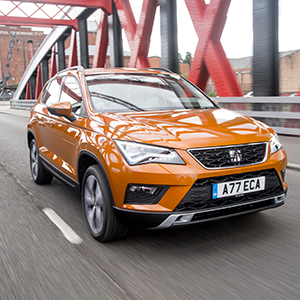 SEAT has rewritten its record books with new car registrations reaching unprecedented heights in March and the first quarter of the year. The super-stylish Spanish brand saw 11,200 new cars registered in the past month, an increase of 29.1 per cent on the same period in 2016.
Customers are following the critics in choosing SEAT as a brand that delivers an unrivalled combination of stylish design, sporting character, top quality and technology and impressive value – qualities that run deep through its multi-award winning model range.
The breathtaking results complete a hat-trick of record performances for SEAT in the first three months of the year, taking the brand's UK total to 16,782. The year-on-year increase of 25.3 per cent is the best for any brand in the British market, outside the premium segment.
Customer demand for SEAT models is such that new vehicle orders are also running at record levels, in private and true fleet sales.
This impressive rate of growth is consolidating SEAT's presence in the UK, where its first quarter share of the market has risen to 2.05 per cent, up from 1.73% in 2016.
Richard Harrison, SEAT UK Director, said: "Our sustainable growth strategy is right on plan, thanks to the award-winning products coming out of Barcelona, a massive boost in brand awareness, and the hard work invested by everyone in our business and our dealer partners to make more customers aware of the great range of products we can now offer them.
"What's even more exciting is that there is still yet more to come, with the prospect of the All-new Ibiza and All-new Arona crossover both arriving later in the year, on top of Ateca – which is now firmly established as the new benchmark in the compact SUV class – 2017 is set to be a record breaking year for the SEAT brand."
Related Stories