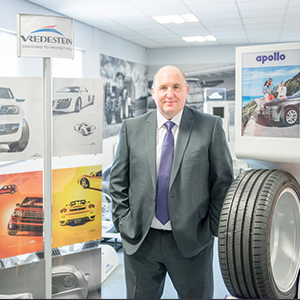 Premium tyre designer and manufacturer Apollo Vredestein announces a new Regional Sales Manager with the appointment of John Cowderoy. As part of a reorganisation of the UK sales team, John will cover a newly-created region in the South of England.
John brings a wealth of experience in the tyre industry, spanning over thirty years in significant UK roles within manufacturers such as Pirelli and Bridgestone, as well as his most recent position as Point-S UK Managing Director, where he focused on developing business strategies with retailers to deliver profitability and growth.
This is the ideal background for joining Apollo Vredestein: "I see my role here as promoting commercial success through building client relationships that result in revenue growth for both parties," says John.
John will report to Apollo Vredestein Country Manager Karl Naylor, who commented: "Apollo Vredestein's strategy of growth in the European market is based on having industry-leading products and a team of excellent people – the company has been hugely successful in developing strong, long-term relationships with our customers and John's appointment is a significant investment in continuing and further developing this approach. John's experience clearly demonstrates his capabilities in collaborating with customers on their sell-out and marketing strategies, and this appointment is further evidence of how significant the UK market is for Apollo Vredestein."