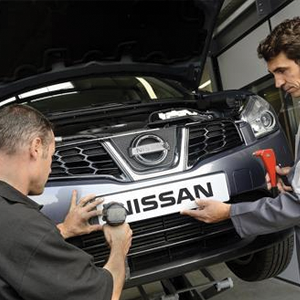 The roll-out of Nissan's EU-wide bodyshop certification program has now grown beyond 800 sites, driving efficiency and value for customers across the region.
Expansion of the approved bodyshop network across Europe will continue into 2018, with the target of reaching more than 1,000 sites. This achievement will enable easier access to optimal OEM repairs, giving drivers peace of mind while minimising the cost exposure to insurers.
Quality assurance is the aim of Nissan's stringent certification programme, which is based around the implementation of 122 regularly-audited standards to optimise the repair process.
To ensure standards remain high, the brand has developed a detailed bodyshop improvement program utilising Nissan's renowned practises to reinforce performance levels over time. Each certified bodyshop's status depends on standards met, alongside the adoption of repair technologies and expertise levels.
Nissan's certified network was established in 2012 to maintain the safety and integrity of every vehicle that carries the Nissan badge, from the first owner onwards. Now Nissan's commitment to growing its bodyshop network means it can provide an even more accessible OEM repair service to customers, continuous satisfaction and quality when repairing within the Nissan network. For the insurer, this also increases the chance of the customer renewing their policy.
Jean-Christophe Mercier, Vice President of After-Sales, Nissan Europe, commented: "Incentivising the main collision and repair market stakeholders to remain within Nissan's pan-European network for repairs will help to maintain the duty-of-care that comes with every Nissan on the road."
He added: "We are delivering the most time-efficient and cost-efficient route towards a repair with warrantied parts and labour, drastically reducing the need for secondary remedial work and maintaining the integrity of the car's structure and safety systems in full."
In selected markets across Europe, an additional commitment to total loss avoidance has been incorporated into Nissan's offering. This takes away many of the most expensive pay-outs for which insurers are liable each year, while ensuring the highest possible safety standards and the most appropriate repair for the vehicle.
Jean-Christophe continued: "We believe nobody is better equipped to prevent a total loss on the grounds of technical competence, expert knowledge or cost management than the company that built the car. This is a significant advantage to drivers and any insurer which uses Nissan's network. We are confident that Nissan's pan-European network is now the optimum solution for the repair industry and their customers on all criteria."