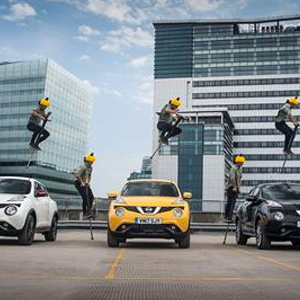 Nissan has unveiled its latest innovation for drivers with a sense of adventure. Called JukeCam, it's the world's first integrated multipurpose 360º dashcam that transforms in seconds to an action sports camera.
Two bespoke mounts – one integrated into the dashboard of a Nissan Juke crossover, and another attached to a helmet – mean that JukeCam is perfect for filming every aspect of the driver's life.
That could be life on the road, where dashboard cameras can help reduce insurance premiums and settle claims. Or it could be life on the slopes, in the air, down mountain trails or on any other adventure where a first-person action camera is part of the kit list.
Nissan JukeCam is a technology concept that's been developed in conjunction with 360fly, a manufacturer of 360º cameras.
JukeCam is showcased by Xpogo in new Guinness World Records™ attempt
JukeCam's dual-purpose capability is showcased in a stunning new video – shot in 4K quality – starring members of Xpogo, an extreme pogo team.
During filming, stunt performer Dalton Smith jumped over three Nissan Jukes in a row with just one bounce between them. That set a new Guinness World Records™ title for Most Consecutive Cars Jumped Over on a Pogo Stick.
Dalton Smith commented on his Guinness World Records™ title: "This was never going to be an easy world record to break, but the team and I are always up for a challenge. When Nissan approached us with the idea of JukeCam we were all super-excited. Nissan's JukeCam is an awesome concept for drivers; I could definitely put it to good use."
Juke Envy Special Version joins the action
Nissan now offers its crossover customers another way to stand out from the crowd by enhancing the Nissan Juke's individual personality with a stylish new Special Version – the Juke Envy. The new model plays a starring role in the video of Xpogo's Guinness World Record breaking attempt.
The Juke Envy is based on the well-specified N-Connecta grade with the addition of some striking personalisation options. Tokyo Black front and rear bumper inserts, headlight inserts for the Xenon headlights and 18" alloy wheels with Tokyo Black inserts are complemented with Detroit Red wing mirror covers and Style Pack for the side door sills and lower boot finisher. The styling continues inside the cabin with Detroit Red interior personalisation.
Juke Envy is available with a choice of two powertrains – the DIG-T 115 petrol and dCi 110 diesel – and is priced from £19,045.
Nissan has led the way in making intelligent in-car camera technology more accessible, with a focus on 360º views to improve road safety. Intelligent Around View Monitor is Nissan's innovative parking camera system which creates an all-around bird's eye view to help drivers detect obstacles during low-speed manoeuvres such as parking. An earlier version of this system was first introduced in 2012 on the Qashqai.
Almost 800,000 Jukes have been sold in Europe since the car's launch in 2010. Of those, 133,000 have been fitted with Intelligent Around View Monitor. With four cameras per car, it means a total of 532,000 cameras have been fitted to the Juke since its introduction.
Nissan pioneered the use of in-car cameras to improve driver safety. In 2002 the Primera became the first European production model from any mainstream automotive brand to feature a reverse parking aid, then called Rear View Monitor.
The rise in popularity of dashboard cameras in recent years has been dramatic.
Sales in the UK have increased by more than 900% in just two years.1 As well as being used to provide insurers and authorities with evidence in any liability dispute, consumers can also save an average of £57.75 per year in insurance costs by using a dash-cam2.
The fully integrated JukeCam has an 'always-on' recording capacity of three hours when used as a dash-cam, allowing journeys to be recorded should the footage be required for an insurance claim. Once JukeCam is detached from the dashboard-mounted base to be used as an action camera, the battery will last up to two hours.
Helen Perry, Chief Marketing Manager, Juke, Nissan Europe, commented: "Nissan is always seeking to innovate and create new features for its customers, and is a leader when it comes to fitting cameras into cars. JukeCam was born out of a desire to create a camera product which fits with the active lives of our customers. It's perfect for use on the road as a dashcam, but versatile enough to be easily removed to create amazing 360º first-person footage of their adventures."
The Juke is part of Nissan's pioneering range of three crossovers. The crossover is a market segment invented by Nissan in 2007 with the launch of the Qashqai – currently Europe's best-selling crossover. The range is completed by the Nissan X-Trail, a five or seven-seat vehicle that's perfect for family adventures. New versions of both the Qashqai and X-Trail are on sale from this month.