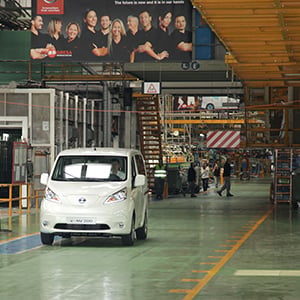 START: New e-NV200 enters production
Nissan have kicked off production of their first-ever 100% electric van, the e-NV200.
Launched at Nissan's Barcelona plant, the e-NV200 is the manufacturer's second all-electric model and shares a drivetrain with the best-selling Leaf.
It will be available as a passenger vehicle, light commercial van and electric taxi, and will be exported to 20 global markets from its Spanish base.
Production of the e-NV200 began at a ceremony attended by Jose Manuel Soria, Spanish Ministry of Industry, Artur Mas, Catalan President and Xavier Trias, Mayor of Barcelona.
They were welcomed by Andy Palmer, Chief Planning Officer at Nissan.
"This is a great landmark day for Nissan."
Andy Palmer, Nissan
Mr Palmer said: "This is a great landmark day for Nissan, starting production of our second electric vehicle.
"This is at a time when EVs are now recognized as mainstream technology, many competitors are only just starting to launch their first EV and where Nissan has clear first mover advantage.
"We're proud that the Nissan Leaf is the world's best-selling electric vehicle with more than 110,000 delighted customers enjoying the quiet and smooth ride of an EV."
Barcelona will be the first city in the world to introduce the e-NV200 as a 100% electric taxi – an initiative Mr Palmer believes is vital for the city.
"This e-NV200 taxi has renewed significance in the wake of record levels of air pollution in London and Paris," he added.
"Bringing a significant number of zero emission vehicles to Barcelona's streets will ensure cleaner air for every citizen, visitor and tourist, and we're confident that forward-thinking councils everywhere will be clamouring to bring these benefits to their municipalities in the coming years."