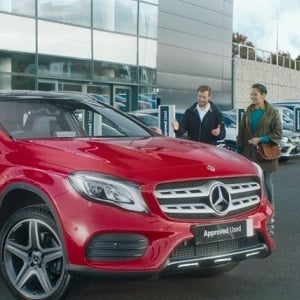 Mercedes-Benz Cars UK has launched its latest campaign for Approved Used Cars, 'Perfect Match' – a multi-media campaign that celebrates the joy and excitement of finding the perfect car.
The campaign launched this week on YouTube and has been created on the insight that customers can easily find their perfect match with a Mercedes-Benz Approved Used Car.
Following the success of the previous Approved Used campaign, which ran from 2016, the second phase for Approved Used Cars continues the modular theme, with refreshed creative concept.
The creative features a relatable and light-hearted, upbeat message that is very deliberately different to other used car ads. Hero protagonist, Julie (played by Camilla Beeput), is looking for her perfect love match and after a succession of disappointing dates, her life takes a turn for the better when she finds her perfect match in the shape of an Approved Used Mercedes-Benz GLA.
Rob Halloway, Marketing Director Mercedes-Benz Cars UK, said: "We wanted to create a sequel to 2016's successful 'Jack' campaign. This time we wanted to tell the story from a female perspective; so the hero of Perfect Match is an empowered female who searches online for her perfect match. Unfortunately, she discovers that sometimes with online browsing, not everything in real life lives up to the internet promise. The result is a series of dates with people with interesting character flaws… Finally, happily, she finds her perfect match with an Approved Used GLA. All of this is played out to a brilliant soundtrack, of course."
Click here to link to 60 second advert
'Perfect Match' runs across national media until mid-July. It will feature in the advertisement breaks of Legend on 7 April 2018 (C4) and during Sky Sports' coverage of the Everton v Liverpool football match on 8 April. The campaign also sits across Video-On-Demand, Digital and Mercedes-Benz' social channels. 

Link to Mercedes-Benz Approved Used Car homepage and Locator