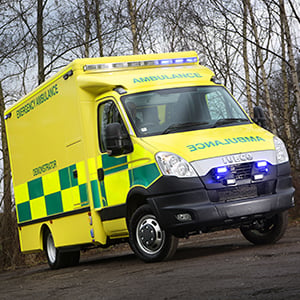 FUTURE: New ambulance set to be best ever
Iveco and Cartwright are teaming up to launch a new accident and emergency ambulance dubbed to be the industry's most advanced yet.
The vehicle, which is being made available for trials with NHS Ambulance Trusts and private operators across the UK, is based on an Iveco Daily 50C17 chassis.
Its body has been designed and developed within Cartwright's 38acre manufacturing site in Cheshire, using materials proven in aerospace and motorsport environments.
Cartwright claim the body is unique in the marketplace for being easily transferable onto a second chassis, of any make, during a projected 15year minimum service life.
Key features of the Iveco include its truck-style chassis frame, which offers structural rigidity, fatigue resistance and long-term durability.
Martin Flach, Product Director at Iveco, said: "From an early stage we knew Cartwright was working on something very special and we were keen to support them.
"From an early stage we knew Cartwright was working on something very special and we were keen to support them."
Martin Flach, Iveco
"Selecting the Daily chassis for the launch highlights its suitability for ambulance operations; it's also a model many blue light fleets already operate."
The bodywork of the vehicle comprises a unique combination of high-strength fibre-reinforced plastic (FRP) laminates, high-density structural foam core, special plastics manufactured by VEKA and high-strength aluminium extrusions.
Internally, lockers are manufactured from fully-bonded VEKA pvc for optimum strength to weight performance, with full inner skins and lockers made similarly.
The vehicle underwent the largest prototype testing regime ever undertaken for an ambulance body in the UK.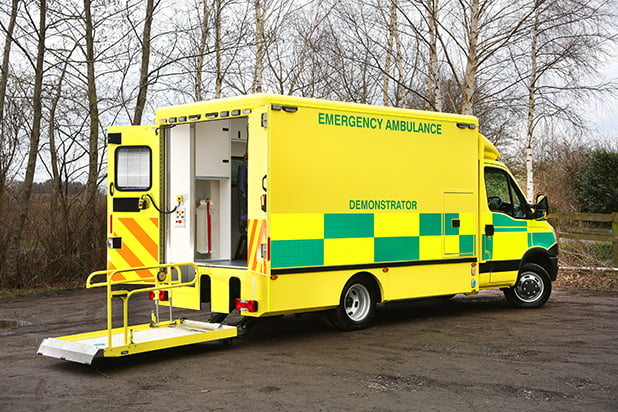 Rather than over-engineer one test body to survive all crash tests, Cartwright invested in multiple crash test bodies, each designed to provide the strength required to survive each directional crash test once.
Key to the body's modular nature, Cartwright claim, is their decision to mount the lightweight body structure onto a reinforced substructure to provide a strong, rigid mounting point for battery lockers, step wells, steps and tail-lift.
Unlike existing ambulance bodies in the UK, this allows fleets the option to remount the body onto a different chassis and wheelbase in the future.