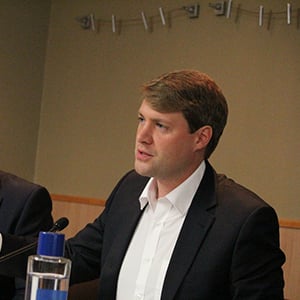 AWARD: Chris Skidmore MP
A local MP has been given a national road safety award by Brake for campaigning in parliament to reform the law on dangerous driving.
Chris Skidmore, MP for Kingswood, launched the campaign with the families of constituents Ross and Clare Simons, who were killed by a dangerous driver in January 2013.
The victims were knocked off their tandem bike and left for dead by Nicholas Lovell, who was banned from driving at the time and had 11 previous convictions for driving while disqualified.
Lovell was convicted of causing death by dangerous driving with the judge, Mr Justice Haddon-Cave, imposing the maximum sentence of ten years and six months and a lifetime driving ban.
However, Lovell could be out of jail in as little as six years; a fact which led to Mr Skidmore's campaign to ensure disqualified drivers who kill are given much stronger sentences.
He and the victims' families handed in the 'Justice 4 Ross and Clare' petition to Downing Street, with more than 15,000 signatures from supporters all over the country.
"We will be continuing the campaign to change the law on dangerous driving…now is the time for change."
Chris Skidmore MP
On January 27 this year, Mr Skidmore secured a backbench debate on dangerous driving, which was strongly attended by MPs from all parties.
Julie Townsend, Deputy Chief Executive at Brake, said: "We are very glad that Chris has brought this vitally important issue to the fore.
"Every day on our roads risky, illegal drivers end lives senselessly, inflict terrible injuries, and cause devastation to families, friends and communities.
"Every MP who spoke in the dangerous driving debate had stories of tragedies in their constituency where victim families were left feeling betrayed by our justice system.
"It is critical that sentences for these crimes properly reflect the seriousness of the devastation they cause, to ensure justice for families and to deter risky, illegal driving."
Mr Skidmore added: "I'm extremely humbled to receive this award, but only wish that it didn't have to be in the tragic circumstances of Ross and Clare's deaths.
"Both families of the couple have worked so hard to ensure that we have raised the campaign for tougher sentences for serial dangerous drivers who are already disqualified from driving to a national level.
"We will be continuing the campaign to change the law on dangerous driving – as the debate in Parliament showed, this is something that MPs from all parties want to see happen, and now is the time for change."