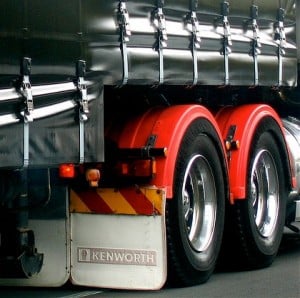 BANNED: Hauliers stripped of licences
Three Northern Ireland haulage companies have been stripped of their operating licences after an investigation found they had used illegal fuel.
Padraig Daly, of PD Refrigerated, Kevin Peter Johnston, of Johnston Tipper Services and Wadsworth James Bethel, of Banbridge, have each had their licences revoked.
Enforcers from Her Majesty's Revenue and Customs (HMRC) found all three individuals guilty of the illegal use of fuel and other infringements under the Goods Vehicle (Licensing of Operators) Act (Northern Ireland) 2010.
The investigation followed three inquiries by the Department of the Environment's Transport Regulation Unit (TRU), who are currently studying almost 30 other cases.
All three men have also been disqualified from holding or applying for an operator's licence for between three and five years.
Donald Armstrong, Head of the TRU, said: "There can be no place within the freight industry for the practices employed by these operators.
"It is completely unacceptable that people break the law to gain competitive advantage over those who abide by the rules.
"It will not be tolerated and must be discouraged.
"That is why we have introduced these powers and will continue to use them."
The Freight Transport Association (FTA) have said they are 'delighted' at the decision, and fully support the pursuit of operators using illegal fuel.
Seamus Leheny, Policy and Membership Relations Manager for Northern Ireland at the FTA, said: "FTA is delighted at the DoE's decision as we believe Operator Licence revocation is the only appropriate response in these circumstances.
"This type of illegal activity is destroying lawful and fair competition in the transport sector.
"Such operators cannot be considered as of good repute, and should have their road haulage licence revoked.
"The potential rewards for operators using laundered fuel are so substantial, that fines or imprisonment alone are not a sufficient deterrent, these operators must also be disqualified from trading as licensed transport operators.
"Members of the FTA welcome this action as illegal operators often undercut them on prices thus depriving legitimate companies of revenue and subsequently jobs."
Image courtesy of macinate, with thanks.