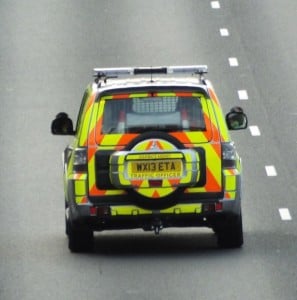 BAGGED: 30 Shoguns for Highways Agency
The Highways Agency are preparing to roll out the first of 30 specialist Mitsubishi Shogun 4x4s.
The bespoke Shoguns include light bars, grill lights and Highways Agency livery.
Built at the manufacturer's Specialist Vehicle Operations Centre – which refits, adapts and upgrades standard models to meet individual requirements – each Shogun takes up to 24hours to complete.
Dan Pigot, Corporate Sales Manager at Mitsubishi Motors UK, claims the deal highlights the quality of the Shogun and the brand on the whole.
"The Highways Agency is an existing customer and it knows it will stand up to their high demands," he said.
"The Shogun is a tough, practical vehicle but it is also extremely comfortable to drive.
"For eight hours of the day the vehicle is their office so it needs to be comfortable and the feedback from the traffic officers is that they really like the Shoguns."
Earlier this year, Mitsubishi supplied 138 specialist vehicles to the Environment Agency, including 70 new Outlanders.
"This latest contract shows Mitsubishi is continuing to tick all the boxes with specialist fleet operators," added Mr Pigot.
"The fact we offer our specialist fleet refits 'in-house' is a major selling point.
"No-one knows better than the manufacturer what can and can't be done, no third parties need to be involved and the whole process is nicely joined up."
Mitsubishi Specialist Vehicle Operations (MSVO) are also working on an array of high-profile fleet operators including National Grid and Ministry of Defence.
Image courtesy of kenjonbro, with thanks.