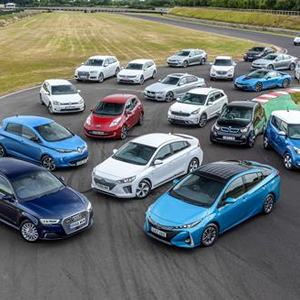 OVO Energy, Oxford City Council, Santander UK, Swansea University and Gatwick Airport are among the latest private and public sector organisations to become 'Go Ultra Low Companies' – signing-up to a clean, green motoring future by embracing electric vehicles (EVs).
These companies join more than 100 other organisations across the country that have already signed up to the initiative, such as Britvic, London Fire Brigade and Microsoft UK. Each has pledged that EVs will make up at least 5% of their vehicle fleet by 2020. Many companies have ambitions to exceed this target: Santander UK, for example, currently operates 57 electric vehicles and wants them to represent 10% of its 1,400-strong fleet by 2020, while Oxford City Council says that 7% of its total fleet will be 100% electric by the end of the decade.
Claire Perry MP, Minister of State for Climate Change and Industry, said: "The UK is the third best country in the world at tackling climate change and we're investing in innovative clean technologies to support the move to a low-carbon economy through our ambitious Industrial Strategy. This Government backs companies that make the switch to low emission vehicles through grants and incentives – it's good for business, good for the air we all breathe and good for reducing the amount of greenhouse gas we produce."
Poppy Welch, Head of Go Ultra Low, said: "The UK Government wants every new car and van in Britain to be ultra-low emission by 2040, and the corporate sector has a huge role to play in achieving this goal. Forward-thinking organisations are well on the road to emission-free and low-cost motoring, taking significant numbers of EVs onto their fleets, learning where they are fit for purpose.
"Research carried out by Go Ultra Low last year found that a large number of user-choosers are keen to switch to electric and benefit from low running costs, tax incentives and a great driving experience. Go Ultra Low Companies are setting an example for others to follow, dispelling misconceptions around EVs at the same time as helping to improve UK air quality and reduce the country's carbon footprint."
Tom Pakenham, Head of Electric Vehicles at OVO Energy, said: "We're delighted to become a Go Ultra Low Company, as we are passionate about keeping emissions low and reducing pollution levels. That's why our fleet is already turning green, with more than 20 per cent running on electric. With the popularity of electric vehicles growing, we have recently launched an EV energy bundle for customers for at-home and on-the-go charging, enabling zero-carbon driving. We want to lead by example and by offering low emission opportunities for our customers and fleet, together we can embrace a greener future."
Ian Bourton, Fleet Manager at Oxford City Council, said: "Our aim is to a make a difference to the local environment by reducing harmful emissions and improving air quality in the city. To this end, we look to provide sustainable alternatives for the vehicle fleet and encourage plug-in vehicles where possible, and currently have 17 on our fleet. We expect ultra-low emission vehicles to become increasingly popular as benefits are realised and positive word-of-mouth spreads."
According to the survey of UK company car drivers commissioned by Go Ultra Low in November 2016, almost 700,000 UK motorists would join the electric vehicle (EV) revolution, if they were given the opportunity by their employers. The survey found that only 25% of businesses offered electric company cars to employees. Of those motorists who were not able to go electric, 69% said they would be 'likely' to choose an EV as their next company car, if they were made available.
Despite these challenges, data from the SMMT shows registrations of EVs to private and public sector organisations during the first half of 2017 accounted for 65% of the total amount – demonstrating the strong appetite for electric vehicles in the corporate sector.
In total, 22,480 electric cars were registered across the UK between January and June, a rise of 14.3% on 2016 and 53.8% up on the same period in 2015. Looking at plug-in registrations across the country, the West Midlands (2,704) Greater London (2,477) and Cambridgeshire (1,928) topped the list of regions with the highest uptake. Greater London also saw the biggest year on year increase in counties registering more than 1,000 plug-in vehicles, with registrations up 68.6% on the first half of 2016.
Go Ultra Low exists to help UK organisations and motorists understand the benefits, cost savings and capabilities of the various electric vehicles on the market. The collaborative campaign is the first of its kind, bringing together a consortium of vehicle manufacturers, Government and the Society of Manufacturers and Motor Traders.