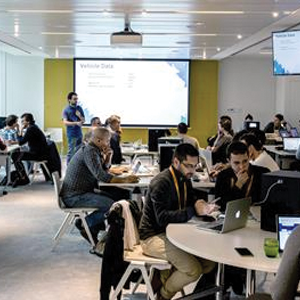 Your daily drive could become a source of income, and even help you to make new friends, with an innovative app that fills empty car seats and, connects like-minded drivers and riders based on location and route.
The idea, from French-based start-up Zify, is among three winning apps from Ford's Make It Driveable AppLink challenge – each receiving €10,000 and an opportunity to work further with Ford. Also selected was Acast, which offers podcast streams tailored to the driver's commute, interests and time of day; and RouteValet, which brings multi-modal private and public transportation into one journey‑planning app.
"For the smart cities of tomorrow we need smarter vehicles, and these three winning apps could each play a role in simplifying our future commutes, making them more enjoyable and even enabling drivers to generate an income from journeys they would be making anyway," said Abraham Philip, manager, Connected Vehicle and Services, Ford of Europe, at the awards ceremony held in the Gustav Eiffel Salon, at the Eiffel Tower, in Paris.
Ford's SYNC connectivity system enables drivers to voice-control smartphone apps from the driver's seat and to access them using a touchscreen. For the challenge, Ford received more than 70 applications from European mobility, telematics, parking, productivity and entertainment start-ups; with the 20 that were shortlisted already offering in‑market applications and solutions and the potential to be fast-tracked for use with Ford vehicles.
Executive mentors supported the teams, which tested the apps using Ford hardware and presented their ideas directly to Ford customers, from France and other European countries, in moderated focus groups. This feedback will both be used by Ford to gain insight into what customers want from future apps, as well as being shared with the start-ups. The carpooling app from Zify, already the largest online marketplace for carpooling in India, first matches people according to desired journey – but could then pair those who like to chat, prefer to remain silent, or listen to the radio, for example.
"People want apps and services that enable more efficient and rewarding driving and that's exactly what we are trying to do with this new take on carpooling. We can't wait to work with Ford so that this idea can become a reality here in Europe," said Zify CEO Anurag Rathor, whose app enables passengers to make payments and drivers to receive fares.
Ford has run app challenges in Berlin, Dublin and Tel Aviv, and provides software and technology to the app developer community through the SYNC AppLink Developer Program – with more than 15,000 registered users. The free SYNC Emulator software enables developers to create and test apps for compatibility with the automaker's connectivity system – without needing to access an actual vehicle.