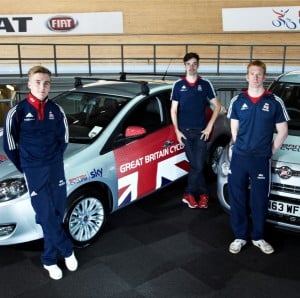 PARTNERS: Fiat extend British Cycling deal
Fiat are extending their role as official vehicle supplier to the National Governing Body of British Cycling until 2016, it has been announced.
The manufacturer, who have supported British Cycling since 2009, will provide a fleet of support vehicles, including the 500L, Doblo and Professional.
They will also continue to promote British Cycling from grassroots to elite level and produce safety campaigns.
Ian Drake, Chief Executive of British Cycling, said: "We are delighted to have been able to extend our relationship with Fiat as we look ahead to delivering success in Rio 2016.
"Fiat has been a key supporter of our ongoing membership drive and the continuation of this partnership further highlights the strength of the programmes we are running across all of British Cycling – from grassroots participation to elite performance.
"Fiat has even gone so far as to produce the limited edition Fiat Punto GBT prior to London 2012 to provide fans with a unique way to strengthen their affinity with the elite riders, and it has also supported British Cycling's campaigning work with their 'Let's Clear the Air' campaign that aimed to promote mutual respect between all road users.
Elena Bernardelli, Marketing Director at Fiat Group Automobiles UK, added: "We are delighted to extend our association with Britain's best performing sports federation and we look forward to helping them build upon their success in the sporting arena and cycling in general.
"Fiat vehicles are a perfect match for the demanding requirements of British Cycling in terms of space, comfort, versatility and this is reflected in the significant increase in the popularity of our vehicles amongst British Cycling members who are opting to purchase our vehicles."