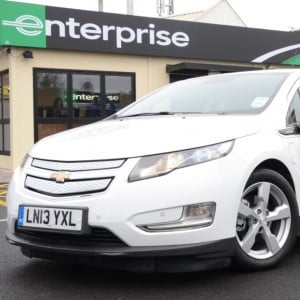 ELECTRIC: Chevrolet Volt hits Enterprise
Enterprise Rent-A-Car are offering electric vehicles to customers for the first time, becoming the first UK rental company to provide the award-winning Chevrolet Volt.
The business are taking on 20 Chevrolet Volts – the 2012 European Car of the Year – with all vehicles to initially be based across Greater London.
Plug-in recharging facilities are also being provided.
The Chevrolet Volt has a petrol-driven engine as well as electric capability, with the former used only as a range extender.
It is exempt from the London Congestion Charge.
Mike Nigro, UK & Ireland Managing Director at Enterprise Rent-A-Car, said: "We looked at many different options before deciding on the Volt as the first electric car we'd offer to our customers.
"It offers an ideal blend of technological innovation and ease of use, with the petrol engine providing the extended range rental drivers often need and making the vehicle simple to refuel.
"Our customers in the London area, both businesses and private individuals, will now be able to try out the Volt and get to grips with the electric driving experience themselves.
"We're also looking at extending this pilot programme to other UK regions if it works out."
Linda Dick, National Sales Manager at Chevrolet UK, added: "We are delighted to be able to supply the Chevrolet Volt to Enterprise.
"The Volt is the ideal car for Enterprise, as it doesn't have the range anxiety associated with other electric vehicles.
"Daily rental is a great way for people to initially experience the Volt; learn how well it drives and how conventional it is in daily use."