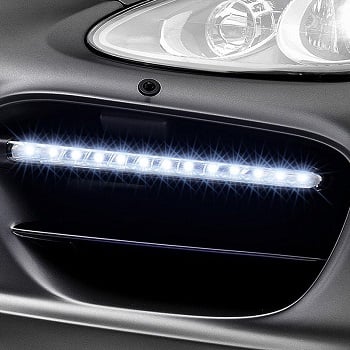 Daytime running lights, which have been a requirement on all new cars and small vans produced in the EU since 2011, may be causing unintended confusion among drivers, according to the RAC.
Designed to make cars more visible to other road users in daylight conditions, daytime running lights (DRL) automatically switch on when the engine is running and switch off when the main headlights are turned on.
They are not designed to help drivers see where they are going, but to enable other road users to see the vehicle.
While all new vehicles have to have daytime running lights at the front, it is not a requirement to fit them at the rear – yet some manufacturers choose to do so, while others do not.
This, according to the RAC, is 'causing confusion and frustration' for road users in dull driving conditions.
62% of respondents to a new RAC survey claimed to see other cars and vans driving in dull overcast conditions with lights on at the front, but no rear lights.
Pete Williams, RAC road safety spokesman, said: "This is potentially a very worrying finding as it implies that many motorists are driving without any rear lights believing that because they have running lights that switch on automatically at the front, they are also on at the rear.
"Alternatively, and arguably just as concerning, these drivers could simply have decided the light conditions were not bad enough to merit turning on their dipped lights or sidelights.
"While daytime running lights are clearly bringing a very valuable safety benefit to the UK's roads, it would be good for every driver to take just a few minutes to make sure they know whether the vehicles they drive have them or not."