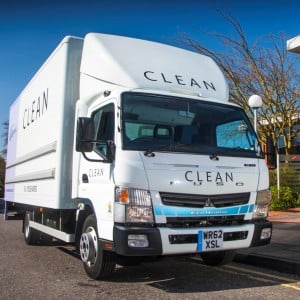 IMPROVED: Clean reap fuel benefits
Leading textile rental provider Clean Linen Services are making big fuel and carbon footprint cutbacks after rolling out their first Fuso Canter Eco Hybrid.
Supplied by Rygor, Reading, the 7.5tonner is assigned to collection and delivery work in London and is achieving fuel returns in the 26-31mpg range.
It is the subject of a CharterWay contract hire agreement with Mercedes-Benz Financial Services, under which it will cover 50,000km a year.
Clean Linen Services, who hold a Royal Warrant launderers and dry cleaners to the Queen, have now ordered a second, identical vehicle from Rygor.
Martin Oxley, Financial Director of Clean Linen Services, said: "We strive to be as environmentally efficient as possible, and the Canter Eco Hybrid compliments the efforts being made in our plants to minimise our carbon footprint.
"But we operate in a very competitive environment so have to be conscious of our costs as well.
"The fact that the vehicle also adds up from a business point of view is crucial."
The model's 150hp diesel engine works in parallel with a state-of-the-art, slimline, 54hp electric motor, which is positioned between the clutch and DUONIC automatic transmission.
Having set off using electric power alone, the vehicle switches to a combination of diesel and electric operation once a speed of around 6mph has been reached.
Depending on the power demand, the electric motor also supports the diesel at higher speeds.
Switches between modes are seamless and require no input from the driver.