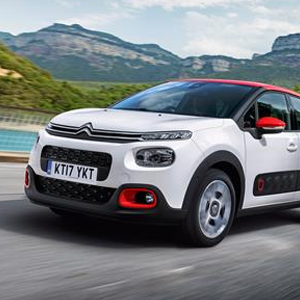 New Citroën C3 has just passed an important milestone, having achieved an impressive 10,000 sales in the first six months since its official launch in the UK. New C3 is officially Citroën's top-selling model in the UK once again. The new B-segment supermini was released for sale in Britain on Tuesday 3 January 2017.
In its first six months, New Citroën C3 has already sold 10,000 units in the UK, making it Citroën's top-selling model in the country. In all markets combined, almost 160,000 sales have now been recorded for this new model. The appeal of this latest Citroën is confirmed by the number of influential awards already received for the car (over 25 globally) and an overall client rating of 4.7 stars (out of 5) on Citroën Advisor.
This exceptional performance confirms the outstanding appeal of New C3, along with impressive UK results such as;
Over 60% of sales in the top-end Flair trim (with ConnectedCAM Citroën™ as standard)
Over 95% of sales with a two-tone (body/roof) paint finish
Over 64% of cars sold with Airbump® panels
The striking supermini was named 'Best Urbanite' in BBC TopGear magazine's 'Best Cars in the World' edition even before the car's official launch. New Citroën C3 was also 'Commended' last month in the Auto Express New Car Awards 2017. The car was recognised for its 'fashionable' looks and 'calming' interior, making it perfect for city life.
With the debut of ConnectedCAM Citroën™ – the world's first built-in dashcam – New C3 allows the driver and front passenger to safely take photos or videos that can be instantly shared via social media using a free app. It also operates as a conventional dashcam in the event of an on-road incident.
The high-performance powertrain options are efficient and economical with PureTech petrol and BlueHDi diesel engines, and the latest generation EAT6 fully automatic gearbox available as part of the range.
New C3 delivers class-leading passenger comfort and a highly customisable character, offering 36 different exterior colour combinations. With a distinctive design, the large panoramic sunroof floods the spacious cabin with natural light while the comfortable seats, inspired by the Citroën Advanced Comfort® programme, promote well-being and emphasise a feeling of reassurance, comfort and calm.