Ford's ride-sharing shuttle service – Chariot – launched its first European routes tailored for companies and campuses this week, promising easier, less stressful commutes.
Chariot, which began operating in London earlier this year, is a ride-sharing minibus service that connects commuters living and working in areas underserved by public transport with nearby transit hubs. Now, Chariot is expanding its focus to serve companies and out-of-town campuses where access by public transport can be difficult. By cutting the reliance on cars to get to work, Chariot reduces the number of vehicles on the road to improve commutes for everyone.
Employers based in locations with less convenient public transport face challenges attracting and retaining the best talent, while on average, taking everything into account, it costs £30,000 to replace an employee who leaves. Furthermore, staff who work for firms that minimise the stress and expense of their commute find their companies to be more attractive places to work.
"Companies know that a good daily commute can make a real difference to their employees' quality of life – and the quality of their work," said Sarah-Jayne Williams, Ford's director for Smart Mobility in Europe. "With Chariot we're providing a comfortable, modern and efficient transport service that we think will benefit staff, their employers and – by helping to reduce traffic – the city around them."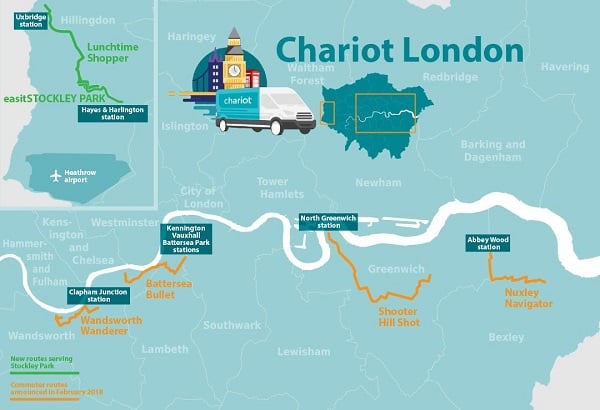 The first new Chariot route is a collaboration between Chariot and award-winning sustainable transport group, easitNETWORK. The service is available for commuters travelling between Stockley Park – near to Heathrow Airport on the outskirts of west London – and Hayes & Harlington Station, a major transport hub served by TfL Rail, National Rail and, from next year, the new Elizabeth Line. One of Europe's premier business parks, the 150-acre Stockley Park campus accommodates more than 7,500 employees from a variety of major businesses including IBM, Apple and BP.
The road infrastructure around Stockley Park – which includes the M25 London orbital, the M4 and M40 motorways serving Heathrow Airport and the capital – can be very busy at peak times, with the office park management encouraging businesses and their employees to use public transport and sustainable transport initiatives such as ride-sharing.
The free easitSTOCKLEY PARK Shuttle Bus operates during weekday morning and afternoon peak times, taking a direct route between Hayes & Harlington station and the Stockley Park campus. A further service – the Lunchtime Shopper – connects Stockley Park and the nearby Intu Uxbridge Shopping Centre, providing an opportunity for staff to relax and run errands.
As well as cutting journey times with dedicated, direct services for people working at the Stockley Park campus, Chariot offers a smartphone app that lets bus users book a seat and track their vehicle's progress in real time. The fuel-efficient 14-seat Ford Transit minibuses feature spacious, air-conditioned interiors, enabling passengers to travel and work in comfort.
"The launch of the new easitSTOCKLEY PARK Shuttle Bus is yet another fantastic string to easitNETWORK's bow and we very much look forward to working with Chariot to make easitMEMBERS' commute that bit easier," said Dr Mel Mehmet, MBE, founder and CEO of the easitNETWORK.
Following a soft launch this week, the free easitSTOCKLEY PARK Shuttle Bus begins full service on Sept. 3. The service will be free to anyone with the Chariot app installed on their smartphone until Dec. 1, after which it will only be available to easitMEMBERS. For further information on becoming an easitMEMBER contact info@easit.org.uk or visit www.easit.org.uk/easitstockley-park