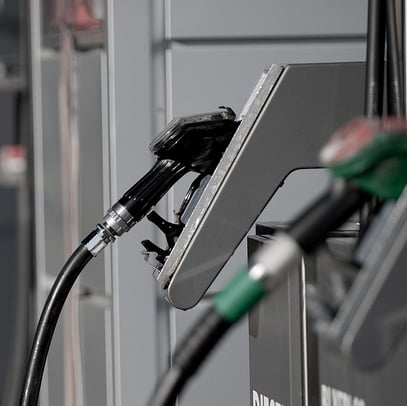 SCRAPPED: 1.6ppl rise dropped by Chancellor
September's planned 1.6ppl rise in fuel duty has been scrapped, Chancellor George Osborne has confirmed.
In last week's Budget, Mr Osborne confirmed there will be no rise prior to next year's general election – though campaigners insist this move is 'not enough'.
FairFuelUK had urged the Chancellor to implement a 3ppl cut in duty – but their request has fallen on deaf ears.
Experts had predicted reducing fuel duty would ease cost pressure on businesses operating commercial vehicles and stimulate economic growth.
According to figures, every penny of fuel duty costs commercial vehicle operators £116million a year.
A 3ppl cut, it was claimed, would have saved around £350million a year for the industry.
The Chancellor also revealed legislation will be introduced in the Finance Bill 2015 to apply a reduced rate of fuel duty to methanol composed of 95% pure methanol and 5% water.
This will be implemented from April 1, 2015, with the rate of fuel duty applied to methanol being 9.32ppl.
The size of the duty differential between the main rate and methanol will be maintained until March 2024.
Mr Osborne also confirmed the government will review the impact of the incentive alongside the duty incentives for road fuel gases at Budget 2018.
Reactions to Mr Osborne's Budget announcements have been mixed.
Association of Car Fleet Operators (ACFO)
'He needed to cut fuel duty…'
Damien James, Chairman, said: "ACFO is pleased that the Chancellor has cancelled the 1.6p fuel duty increase scheduled for September 1.
"However, the move does not stop forecourt prices from rising in the future at the whim of suppliers.
"What the Chancellor really needed to do to give business and consumers a real boost was to cut fuel duty, not simply cancel a planned future tax increase."
Chevin
'A move welcomed by all fleets…'
Ashley Sowerby, Managing Director, said: "In the shorter term, it is positive to see the fuel duty frozen once again in a move that I am sure will be welcomed by all fleets."
Days Contract Hire
'Cut would have been more helpful…'
Aled Williams, Director, said: "The decision not to increase fuel duty before the May 2015 general election is a welcome move.
"However, to further speed up economic recovery a cut in fuel duty would have been more helpful to businesses across the UK."
Freight Transport Association (FTA)
'Missed opportunity…'
James Hookham, Managing Director of Policy and Communications, said: "The Chancellor has kept his promise to freeze fuel duty and industry will be £187million a year better off for that, but he missed the opportunity to stimulate the economy further by reducing fuel duty and putting around £690million into the pockets of families and British business.
"This could have given a further stimulus to the economy and locked in the positive growth already achieved."
LeasePlan UK
'Pleasing and reassuring for motorists…'
David Brennan, Managing Director, said: "To date, fuel duty has been frozen for over four years and George Osborne's confirmation today that there would be no further rises until May 2015 was pleasing for motorists.
"Whilst fuel prices in the UK are still among the highest in the world, it is reassuring to hear the government's commitment to easing the cost of motoring for drivers and businesses."
Lex Autolease
'Should have gone further…'
Andrew Hogsden, Senior Manager of Strategic Fleet Consultancy, said: "Fuel costs remain a significant overhead for businesses that operate vehicle fleets.
"Although the pledge to freeze fuel duty was a step in the right direction, we would have liked to see the Chancellor go further and announce a cut in fuel duty.
"Reducing this burden would provide business with a much needed cashflow boost as they look to capitalise on the opportunities presented by the recovering economy."
RAC
'We can only hope Mr Osborne is saving the best news for the autumn…'
David Bizley, Technical Director, said: "George Osborne is one of the few chancellors who has actually reduced fuel duty by cutting a penny off in the 2011 Budget instead of just putting it up like most of his predecessors, and we had hoped he would see the wisdom in doing so again, but sadly that hasn't happened.
"Fleet drivers, and those responsible for maintaining fleets, will benefit from a further freeze and help prevent the hardship felt from high fuel prices getting any worse – but a cut in duty was needed to reverse this punitive charge, which is effectively a tax on virtually every British business that uses vehicles.
"Along with the FairFuelUK campaign we wanted to see a radical and much-needed 3ppl cut in fuel duty as we believe this would do far more good for the economy than simply freezing it.
"The economic benefits of a fuel duty cut have been clearly demonstrated in the reports produced by the Centre for Economics and Business Research as well as the National Institute of Economic and Social Research.
"We can only hope Mr Osborne is saving the best news for the autumn in the form of a vote-winning duty cut ahead of next year's election."
Road Haulage Association (RHA)
'Scant encouragement…'
Geoff Dunning, Chief Executive, said: "As far as we are concerned, if you are a gambler or a drinker, the Budget brought good news.
"However, for the UK haulier, currently paying the highest level of fuel duty in Europe, there was scant encouragement.
"We were buoyed up at the pre-Budget announcement that the Chancellor had some 'surprises' up his sleeve.
"Sadly, they did not include a cut in fuel duty – the thing that our industry so desperately needs."
UKLPG
Lisa Thomson, Director of Communications and External Affairs, said: "UKLPG welcomes today's confirmation that consumers will not suddenly be faced with a fuel duty increase.
"This has cleared the way for more UK motorists to convert their vehicles with confidence, as LPG autogas remains the cheapest, most widely available alternative fuel on the market.
"LPG autogas has a full infrastructure already in place in the UK.
"With a network of over 1,400 refuelling points and circa 150,000 vehicles on the road, it is the best placed fuel to reduce vehicle carbon emissions and tackle the growing problem of UK urban air pollution.
"With transparency on the future of the fuel duty for LPG, more motorists and fleets are likely to convert their vehicles to run on LPG autogas, which could have a significant impact on air quality in our urban areas.
"Pollution in our cities is reaching a critical level and this is why UKLPG has announced its support of the Healthy Air Campaign (HAC).
"The campaign is designed to raise public awareness of the health impacts of air pollution, encourage behaviour to help cut air pollution and exposure to it and persuade all levels of government to take stronger action so that the UK complies fully with air quality law.
"This week's Budget will provide consumers with confidence that greener motoring will not be penalised by an increase in the fuel duty."