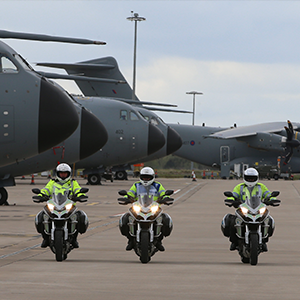 RAF Brize Norton was the location for the official handover often Ducati Multistrada 1200 motorcycles to BikeSafe, a police-led initiative to reduce the number of motorcyclists involved in accidents on the road by improving skills, knowledge and hazard awareness.
The location was also chosen to highlight BikeSafe's partnership with the RAF that will involve the police putting an estimated 2,500 motorcycle riding RAF personnel through the workshops.
The Multistrada 1200 was chosen by BikeSafe after an extensive evaluation process and deemed to be the most suitable motorcycle to assist the various forces throughout the UK to deliver the BikeSafe workshops, feature at shows, events and bike meet.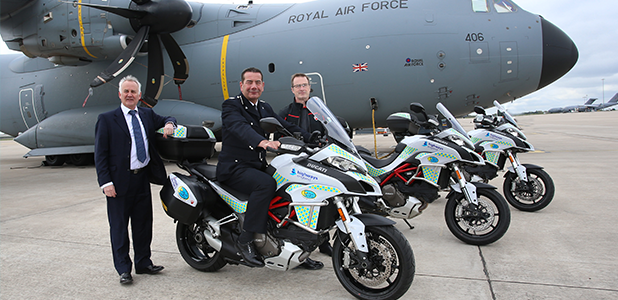 The purchase of the bikes is funded by Highways England, which is responsible for 4000 miles of England's motorways and major A routes. Highways England has seen the results and benefits of the BikeSafe project and sees improving rider skills as one way of achieving its aims to reduce rider casualties on its road network.
Ducati UK along with the motorcycle industry has been an important supporter of the BikeSafe project regularly loaning its bikes to them in police livery for use at shows, race meetings and bike meets. Ducati motorcycles that BikeSafe have used in the past has included, a 1299 Panigale, a Scrambler, a Diavel and for this year the new SuperSport.
Assistant Chief Constable Nick Adderley the National Police Chiefs Council lead for BikeSafe said "We are delighted by the recognition and direct support that BikeSafe has received from Highways England, a national body that is working in partnership with BikeSafe to reduce motorcycle casualties.
This has enabled BikeSafe to purchase this fantastic fleet of Ducati motorcycles. These exciting and dynamically engaging bikes will be used for BikeSafe engagement and education of motorcyclists across the country, as well as keeping our service personnel safe through our partnership with the RAF."