The Wallbox Pulsar and Commander electric vehicle chargers are upgraded with new functionalities, better safety and improved toughness.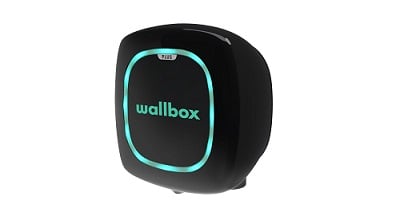 Pulsar is the best-selling Wallbox charger. Designed specifically for the home it is compact, economical and packed full of technology and features. To further strengthen the Pulsar range offering, Wallbox is introducing the new Pulsar Plus. The new Plus model includes the extra protection offered by DC leakage detection. This eliminates the risk of energy stored in the vehicle's battery from entering the grid supply, corresponding with the introduction of new installation standards in many markets.
Pulsar Plus also benefits from the inclusion of wi-fi connectivity, in addition to its Bluetooth capability. This means Pulsar Plus is able to access the real time and dynamic Power Boost and Power Sharing functionalities available from the myWallbox charging management platform. Power Boost optimises the energy relationship between home and vehicle, in order to give faster charging when more power is available. Power Sharing allows a balance between vehicles charging in the same location.
The myWallbox platform is accessed via mobile app and PC. It is free for domestic users and allows charging to be managed remotely; increasing and decreasing charging rates, locking and unlocking the device, scheduling charging sessions and providing comprehensive user history and statistics.
Pulsar Plus is suitable for every plug-in vehicle, with type 1 and type 2 tethered connectors and is rated all the way up to the maximum domestic charging power of 22 kW. It is one of the quickest and smartest chargers available.
When the going gets tough, the tough keep going, as the song goes. Introducing the new Wallbox Commander 2.
The upgraded Commander 2 model has had its public space credentials strengthened with the addition of a Gorilla glass touchscreen. And it gets DC leakage detection. It is capable of accessing Power Sharing functionality from the myWallbox Business charging management platform, which dramatically improves the energy use efficiency at multiple charging locations.  And also introduces phase balancing. Importantly it maintains these functionalities even when the internet goes down because each charger has the critical intelligence on board.
Commander 2 can be accessed with a simple user PIN or RFID card. The charger can be managed remotely via ethernet, Wi-Fi or mobile communication. And with the benefit of full colour screen advertising, type 1 and type 2 tethered connection, and a powerful 22 kW rating, it is the ideal solution for shared parking areas and commercial locations.