The firm has plans to onboard 28 apprentices this year across its recently merged operations, which incorporates Pullman Fleet Solutions and Rivus Fleet Solutions into a united operation from February 2022.
Most of the apprenticeship opportunities will be for Heavy Goods, Light Commercial and Electric Vehicle technicians. A number of placements will be in support roles including finance, customer service and administration. All opportunities will provide the chance to grow within the business at a national level.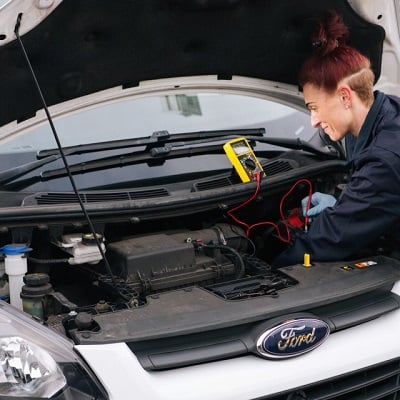 The Rivus Apprenticeship scheme offers a three-year programme, combining on the job workshop experience with theoretical and practical learning. Rivus partners with leading automotive apprenticeship provider Remit Training, who deliver classroom style education and ongoing mentoring and support. Apprentices benefit from education blocks at Remit's state of the art training academies, with the latest technology and equipment and an engaging peer-to peer environment with other Rivus apprentices.
The 'Build the Future' theme of this year's National Apprenticeship Week campaign resonates with Rivus' strategy of identifying and developing new talent for the future to fill technician and engineer gaps left by current skills shortages in the industry. The Rivus Apprenticeship programme is available to both internal and external candidates, with a clear objective of growing skills and capabilities for the future.
Victoria Knight, HR Director at Rivus, said: "Strategically our business is working towards a more sustainable future and achieving net-zero emissions for our customers. We are leading the way in introducing alternative fuel vehicles into our customer fleets and we're ahead of the market in EV transitioning, fleet management and technician training. We strongly believe that investing in and growing a strong talent pool from scratch is key to overcoming the current skills shortage in the industry and means we can be fit for the future.
"This intake of apprentices will be one of the largest we've had in a number of years and marks our commitment to growing our skills and capabilities to meet the future fleet management needs of our customers. It offers a progressive and exciting career path within an industry that is facing some of the biggest change in its history."
Last year 45 apprentices graduated through the Rivus Apprenticeship programme and the business onboarded a cohort of 11 into the programme in September 2021. Covid-19 had a significant impact on training and development in the automotive industry, with face-to-face training grinding to a halt during lockdown conditions. Rivus overcame this by responding quickly to get its Manchester and Watford workshops assessed and accredited with Institute of the Motor industry (IMI) so that its current apprenticeships were not delayed in achieving Vehicle Service and Maintenance Level 3.
The Rivus Apprenticeship programme is available to internal candidates, school leavers and mature apprentices looking to develop their skills in the fleet automotive industry.
Vehicle Build Manager Harley Stevens joined Rivus when it was BT Fleet Solutions and was an apprentice for four years, before graduating in 2017. He gained a broad knowledge and developed the ability to work on a wide range of vehicles from small engines to heavy goods vehicles and anything in between. Since completing his apprenticeship, Harley has continued to develop his skills and knowledge of electric and hybrid vehicles.
Talking about his apprenticeship, Harley explains: "I had a keen interest in vehicles and how they worked from a young age, so an apprenticeship in the fleet industry was a logical step when finishing school.
"Anyone who is unsure whether the fleet industry is right for them I would say it is an industry in which endless growth and learning opportunities are always readily available. The fast-moving technology gives you a working environment in which no two days are the same.
"Since beginning my apprenticeship, I have been given multiple opportunities for personal growth. Within Rivus there is a great culture of promoting from within and upskilling new and current employees, and this has enabled me to gain multiple additional qualifications and learn new skillsets. Without this I would not be in the position I am today."
Rivus has more than 1,300 employees, manages circa 200,000 service bookings each year and operates from 80 sites nationwide through its LCV and HGV combined garage network. It also has over 500 Rivus Approved Garage Partners and a UK wide team of mobile technicians.