New car registrations grew 1.7% in November, bringing an end to four months of consecutive decline, with 115,706 units registered compared to the same period last year, according to new figures released today from the Society of Motor Manufacturers and Traders (SMMT). However, this must be viewed in the context of a weak 2020, when lockdowns impacted registrations, including November. Compared to the pre-pandemic average, the market remains down significantly, with -31.3% fewer vehicles registered during the month.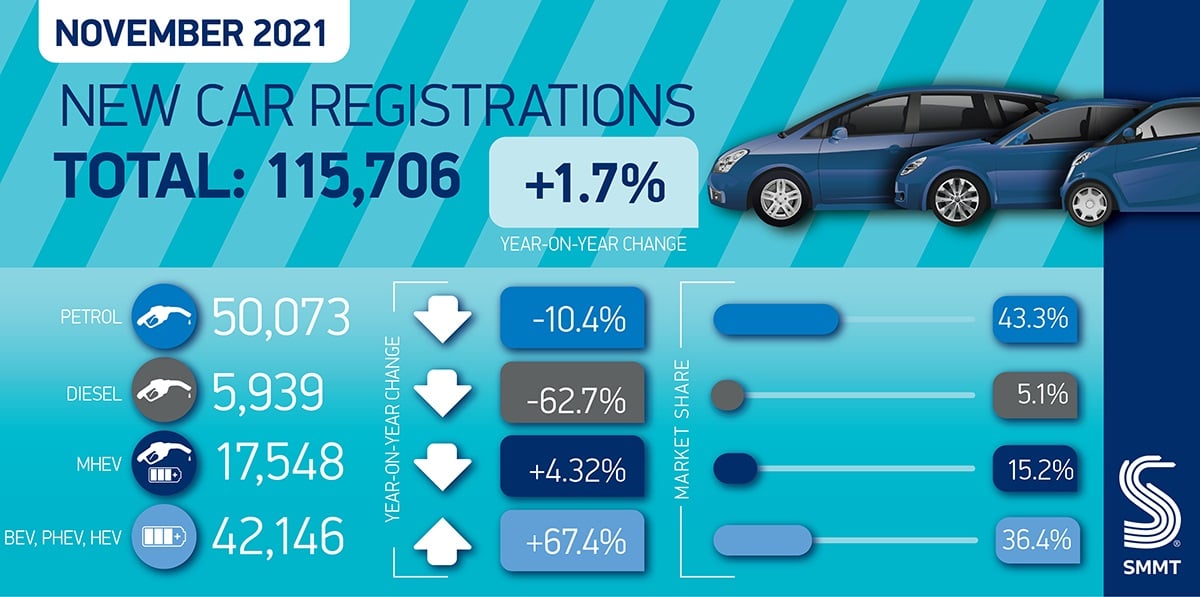 Plug-in vehicle demand continued to grow, however, with battery electric vehicles (BEVs) equating to 18.8% of the market, with 21,726 units – more than double compared with November 2020 – while plug-in hybrid vehicles' (PHEVs) share grew to 9.3% or 10,796 units
Year-to-date, 1,538,585 new cars have been registered, of which 17.5% have been BEVs or PHEVs, meaning one in six new cars is capable of being plugged in. When combined with hybrid electric vehicles (9.0% share), more than a quarter (26.5%) of the new car market during 2021 has been electrified.
Despite this uptake in demand for plug-in vehicles, new SMMT analysis this month revealed that the pace of on-street public charging infrastructure rollout is lagging, with the number of plug-in cars potentially sharing a public on-street charger deteriorating from 11 to 16 between 2019 and 20202 and just one standard on-street public charger installed for every 52 new plug-in cars registered over the course of this year. 3
Britain's ratio of plug-in vehicles on the road to standard public chargers (16:1) was one of the worst among the top 10 global electric vehicle markets at the end of 2020. With plug-in vehicle uptake having grown by 86.6% in 2021, SMMT is calling on the government to take action to avoid the ratio deteriorating further, by boosting the provision of public charging points through the imposition of binding targets.4
Private demand over the course of the month saw an increase of 41.7%, taking the private market share to an unusual high of 54.1%, although the growth reflects the impact that the November 2020 lockdown had on consumer purchases, as well as the supply-constrained nature of the current market as the shortage of semi-conductors undermines both production and registrations of new vehicles. The number of new cars registered to large fleets declined by a quarter (-24.7%).
Mini and specialist sports vehicle segments both saw significant increases of 139.9% and 66.8% respectively, despite representing relatively low volume segments and therefore subject to volatility. The most popular categories, remain the lower medium (28.8%), supermini (28.6%) and dual purpose (27.5%) segments.
Mike Hawes, SMMT Chief Executive, said: "What looks like a positive performance belies the underlying weakness of the market. Demand is there, with a slew of new, increasingly electrified, models launched but the global shortage of semiconductors continues to bedevil production and therefore new car registrations. The industry is working flat out to overcome these issues and fulfil orders, but disruption is likely to last into next year, compounding the need for customers to place orders early. The continued acceleration of electrified vehicle registrations is good for the industry, the consumer and the environment but, with the pace of public charging infrastructure struggling to keep up, we need swift action and binding public charger targets so that everyone can be part of the electric vehicle revolution, irrespective of where they live."
Jon Lawes, Managing Director at Hitachi Capital Vehicle Solutions: "The rise in popularity of electric vehicles continues to be welcome news for the industry as drivers are increasingly convinced by the compelling benefits of EVs.
"However, with a deteriorating ratio of public charge points to cars, there are concerns momentum towards zero emission motoring will be hampered in 2022 by insufficient public charging provision which is failing to keep pace with new EV registrations.
"Despite recent welcome Government pledges to invest in charging infrastructure, the current shortfall and significant geographical disparities threaten to dampen driver confidence."
Jamie Hamilton, automotive director, and head of electric vehicles at Deloitte, said: "New car sales in November grew by 2% compared to the same period last year, driven primarily by private sales (+42%). Whilst promising, this growth is from a low base and sales continue to be substantially below their pre-pandemic level (-31%).
"This month's results mean that year-to-date sales are only 3% higher than last year; a time when COVID-19 restrictions closed showrooms restricted sales to online or virtual, only. At the start of 2021, there was hope that sales would return to near-previous levels but, with just a few weeks of the year left, it is evident how damaging the ongoing semi-conductor shortage continues to be.
"The shortage is expected to continue well into 2022. While manufacturers are doing all they can to satisfy strong demand, consumers are still faced with a longer-than-normal wait for a new car.
One in ten cars sold this year fully electric
"Electric vehicles continue to outperform the sector, with battery electric (+110%) and plug-in hybrid (+40%) vehicles both reporting growth. In comparison, both petrol and diesel declined compared to the same period last year by -10% and -63%, respectively. Fully electric vehicles alone held a 19% share of the market in November, and have accounted for a more than one in ten of all cars sold this year; almost double compared to the same period in 2020 (6%).
"With EV growth continuing apace, charging infrastructure has once again been in the spotlight over the past month. The rate at which new chargers are being installed is falling behind the number of new EVs that are sold, meaning the ratio of chargers to cars is far from optimal.
"The availability of chargers remains one of the biggest barriers to consumers switching to a fully electric vehicle. A comprehensive, joined up approach to investment in the EV charging landscape will be required to overcome this hurdle.
"This month we have also seen legal commitments to fitting a charge point to all new homes and buildings. Undoubtedly, this will encourage more businesses to commit switching their fleets to electric and will see many more homeowners with driveway access to charging. However, charging will still be a challenge for those without off-street parking. Creating an equitable approach to EV charging which does not exclude large pockets of the population will be key to meeting 2030 commitments."
Meryem Brassington, electrification propositions lead at Lex Autolease said: "The rise of electric vehicle registrations has continued to make inroads in the new car market this year, with today's figures taking the total number of EVs registered to more than 163,000  – already surpassing the 108,000 electric vehicles registered in 2020.
"While the continued growth is encouraging, there's still a long way to go to achieve the UK's ambitious electrification plans, with charging infrastructure investment firmly at the top of the agenda. The government's latest requirement to install charge points in new homes and buildings from next year is another welcome step in the right direction. By ensuring the product supply and supporting charge network is in place, we can continue to accelerate the transition towards a zero emission future."
Lucy Simpson, head of EV propositions at Centrica, said: "Despite ongoing supply chain issues, the electric car market is showing no signs of slowing down, with more than 163,000 vehicles registered this year to date – a major shot in the arm for the country's electrification ambitions.
"As sales of electric vehicles continue to rise, charging infrastructure and energy systems will need to be upgraded to cope with increased demand from drivers. The government's recent mandate to install charging points in new homes and buildings from next year is another positive step along the Road to Zero. However, we must continue to see further investment in the UK's charging infrastructure to avoid large swathes of the population being left behind on the journey towards an electric future."
Oliver Shaw, CEO at Kalibrate: "With traditional manufacturers investing in and producing electric vehicles (EVs), alongside the government's ongoing commitment to reach net-zero emissions by 2050, it should come as no surprise to see EV market share skyrocket. Yet, if EVs are to become commonplace the infrastructure needs to keep pace with consumer appetite. Charging points need to be rolled out, and this must be done through a steadfast data strategy that can uncover regional variations and show which locations need further investment. Only then will we see a tipping point to ease concerns of range anxiety (27%) and the complexity of refuelling compared to traditional vehicles (27%).
"This presents a massive opportunity for retailers, with 57% of EV drivers saying they'd like to see more charging points at shopping venues. We have seen the likes of Costa Coffee, Waitrose and 7 Eleven invest in EV charging points and form strategic partnerships with one eye on the EV future. Only time will tell if this electric world becomes a reality and if the infrastructure will be in place for EVs to become mainstream."