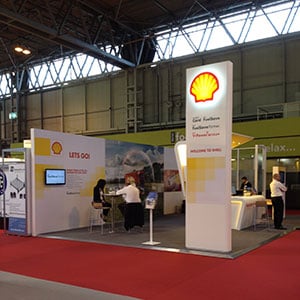 EXHIBIT: Shell at CV Show
Wider adoption of efficient driving is key in reducing the haulage industry's fuel consumption, related costs and CO2 emissions, new research by Shell has revealed.
The Fuel Matters 2014 study, which questioned road haulage managers nationwide, found 67% single out improving their drivers' fuel efficient motoring skills as the most effective way to cut consumption.
Incredibly, 54% believe tackling the issue could single-handedly cut fuel bills by 5% or more, with 12% believing the saving could be greater than 10%.
However, 46% of those questioned also feel powerless to capitalise on the opportunity due to a lack of resources in personnel, funds for driver training and information.
Half revealed they feel the key to improving fuel efficient driving behaviour lies in the effective use of fuel management telematics systems and subsequently identifying areas for operational improvements.
Despite this, 87% admitted they currently are only able to use and action less than 60% of insights generated, with 45% able to use less than 30%.
More than one in three road haulage managers are also concerned about convincing drivers to adopt more fuel-efficient behaviour in the first place.
Phil Williams, Head of Shell Commercial Fleet UK, said: "In a world of tighter margins, stricter environmental legislation and a growing need to prove green credentials during customer tenders, fuel efficient driving can make a real difference to the profitability of a haulage business.
"This is why many operators feel frustrated that they don't have the resources to capitalise upon the opportunities available."
Mr Williams also claimed the findings were reflective of a major shift in the job itself.
"Nowadays, the role of a road haulage operator has become more important – and much more complex," he added.
"Not only are they required to manage day-to-day fleet operations, they also have to stay on top of emissions regulations, investigate new fuel and vehicle solutions, and find ways to minimise fuel consumption.
"Many managers are telling us they're just not getting the support they need to deliver this.
"We hope that the advice and guidance we are providing to fleet managers through Fuel Matters 2014 will help them to achieve their goals."