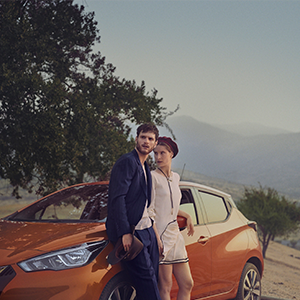 Nissan has launched the first advertising campaign for the all-new Micra. Called 'Meet the Accomplice', it showcases how the striking new B-segment hatchback is the perfect partner for today's driver.
The campaign is being launched simultaneously across all communication channels – TV, radio, print media, social media, retail, digital and billboard. It is being rolled out across Europe through March, April and May.
It has been created to build awareness of the all-new Micra – the fifth generation of Nissan's iconic B-segment hatchback – and reveal the car's engaging personality to full effect.
Campaign launch timing coincides with the arrival of the Micra at Nissan retail sites across Europe. More than 6,000 cars are now in showrooms and on forecourts, for onward delivery to customers and for demonstration drives.
The campaign's centrepiece is a TV advert, which focuses on the story of a young couple on the run. Their accomplice – the hero of the story – is the all-new Nissan Micra.
The soundtrack features a special new remix of the iconic song Bonnie & Clyde, performed by French singer/songwriter Serge Gainsbourg and actress Brigitte Bardot.
Jean Pierre Diernaz, Vice President Marketing, Nissan Europe, commented: "With its expressive design, uplifting interior, confident drive and advanced technologies, the all-new Nissan Micra is the perfect partner for consumers. 'Meet the Accomplice' is a campaign which emphasises this point – and reveals the new Micra's personality – in a truly engaging and humanistic way. It's also a new tone of voice for Nissan based on strong consumer insight."
Developing the partnership theme further, a series of shorter videos and images have been created to highlight and explain key features of the new Micra. These include the unique-to-Micra BOSE Personal sound system, with two speakers integrated into the driver's seat head rest for an immersive 360° audio experience.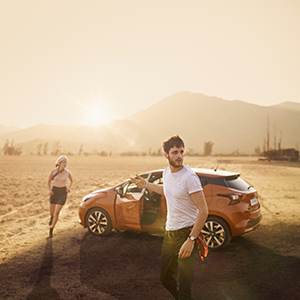 Other assets focus on Nissan Intelligent Mobility technologies such as Intelligent Lane Intervention, and the Micra's comprehensive personalisation program, which allows customers to enhance specific areas of the car's exterior and interior.
The all-new Nissan Micra is revolutionary compared with the model it has replaced. It is longer, wider and lower than ever before, and has been repositioned at the heart of the ultra-competitive European B-hatchback segment.
Conceived, designed and engineered with those customers' requirements at the top of the agenda, Nissan has a clear ambition for the new Micra; it should re-establish itself inside the top 10 sellers in the segment, and compete head-to-head with the best and most popular in the class. Benchmarked against key rivals, Nissan believes the all-new Micra meets and exceeds its targets.