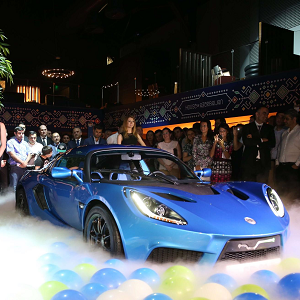 Detroit Electric is continuing to establish its global dealer network with the announcement this week of four new distributors for the EMEA region, as the company prepares for the launch of the exciting SP:01 electric sportscar.
The new distributor relationships will pave the way for the sale of Detroit Electric vehicles in Azerbaijan, Iceland, Norway and South Africa. The news follows the recent signing of dealers for China and South Korea.
The latest of these new distributor contracts was announced during the staging of the inaugural European Games in Baku, Azerbaijan. During the games, the Detroit Electric SP:01 pure electric sports car was seen around the city at a number of high-profile events. The SP:01 was showcased at the Elektra Events Hall and at the iconic Heydar Aliyev Centre, where a number of Azerbaijan government ministers and VIPs were attending the launch of a new fast-charging network in Azerbaijan.
The new Detroit Electric distributor for Azerbaijan is GreenCar LLC, an established electric vehicle sales company. Since it was founded GreenCar LLC has focused on bringing to market innovative technologies that support the reduction of vehicle emissions across Azerbaijan.
The new distributor for both Iceland and Norway is Carpoint, a company that has specialised in retailing electric vehicles since 2008. With offices in Trondheim and Oslo, Carpoint is planning to expand to all the major cities in Norway and is dedicated to providing efficient, reliable and environmentally-friendly vehicles to its customers.
Trond Michael Andersen, Chairman of Carpoint, said: "Partnering with Detroit Electric is a key part of an exciting new chapter for Carpoint, and it means that electric vehicles can reach an even wider audience. It's important that electric cars are increasingly accessible to the masses looking for day-to-day transport, and it's great for the sector that the SP:01 now brings added diversity – an aspirational model able to rival iconic sportscars from established brands."
GridCars, the new South African distributor, was co-founded in 2009. In addition to selling electric cars, the company has designed a commuter car scheme using exclusively electric vehicles. Responding to a gap in the market, GridCars is creating an open charge-point operating system that can be used across South Africa. The company has also created software systems that manage vehicle telemetry data and communicate with relevant electric vehicles. GridCars has diversified into developing AC charge points, which are already used by Nissan and BMW.
Winstone Jordaan, MD of GridCars commented: "The partnership with Detroit Electric is an important milestone for GridCars, allowing us to leverage the top end of the EV market as well as the bottom end through our Commuter Car scheme. With our experience in electric vehicles we are well positioned to support the vehicles technically and provide high standards of aftercare to Detroit Electric customers."
Albert Lam, Chairman and Group CEO of Detroit Electric, added: "Developing the EMEA distributor network is a vital part of our rollout plan, and GreenCar, Carpoint and GridCars all have exceptional track records in the electric vehicle markets in their respective countries. The enthusiasm and support we have received from these three new distributors says much about our vehicles, our brand and the progress we are making."