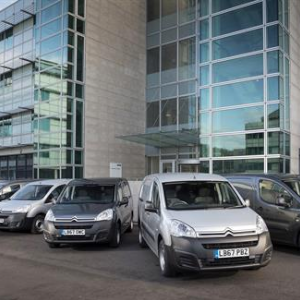 A total of 166 new Citroën Berlingo and Dispatch Crew Vans have replaced an earlier fleet of Citroën Berlingo Crew Vans on the McCormick UK national van fleet. This latest order includes an upgrade to the Teletrac Navman Smartnav and stolen vehicle tracking system on all of the newly acquired vehicles.
McCormick (UK) Ltd is the company behind many well known consumer and foodservice brands, including Schwartz, French's and Frank's sauces, Hammonds of Yorkshire and Thai Kitchen. The UK business, which is a subsidiary of McCormick & Company, Inc., has ordered a fleet of 156 new Citroën Berlingo Crew Vans and 10 Citroën Dispatch Crew Vans, which replaces an earlier fleet of Citroën Berlingo Crew Vans that was delivered in 2013.
The Berlingo BlueHDi 100 L2 725 X and Dispatch BlueHDi 120 XL Crew Vans will be used by McCormick's nationwide team of retail sales and support merchandisers in the UK.
Tracey Hoare, McCormick UK's Regional Business Controller for the South, said: "The key benefits of the new fleet for us are enhanced safety, flexibility and efficiency for our Merchandising Team. It will also help them with dynamic journey planning.
"When the vehicles are fully loaded, there are no weight issues, no matter what the mix of products carried is. In addition, the Berlingos are equipped with a moveable bulkhead, which gives the safety and flexibility we require.
"Finally, the fact that the standard Berlingo is equipped with Teletrac Navman's navigation and tracker system was very attractive to us from a safety point of view, and knowing where individuals are. The system also gives us the opportunity to look at how we manage our geographical coverage more effectively. Drivers are able to use the vehicles for personal use too."
The vans have been sourced through Robins & Day Citroën, London West. All the vehicles are on three-year full maintenance contracts, including tyres, via Alphabet. Mileages will vary to suit the territories of the Merchandising Team. Both the Berlingo and the Dispatch are fitted with telematics to help drivers with journey planning and to improve safety. Drivers will also benefit from air conditioning on all models.
"Servicing appointments are accessible via an App, while drivers benefit from a dedicated McCormick support line", says Steph Brown, Alphabet Corporate Sales Manager. "After a whole life cost analysis with several manufacturers, Citroën proved to be the most cost efficient, and was tried and tested in the McCormick fleet".
"With the renewed deal, McCormick UK will migrate to Teletrac Navman's Director platform", says Sarah Jackson, Automotive and National Account Manager at Teletrac Navman. "The software will help streamline their business operations by giving an overview of long-term maintenance schedules, teamed with location tracking and optimised routeing, meaning McCormick UK and the end customer will reap the benefits of a truly efficient fleet. The software also helps reinforce safe driving, through the monitoring of driver behaviour with real-time alerts of safety violations, encouraging best practise driver performance. They will also benefit from our accredited Trackstar Stolen Vehicle Tracking, for maximum security against potential vehicle theft, for ultimate peace of mind."
Simon Griffith, Corporate Sales Manager at PSA Group UK, said: "Repeat business is a genuine measure of customer satisfaction and it's important to us that McCormick has chosen the Berlingo Crew Van again and added the Dispatch Crew Van to its national fleet as well."
"Retaining the McCormick business while also bringing the new Dispatch Crew Van into the mix is great news for us and enables McCormick to tailor its vehicles to its fleet needs more effectively", added PSA Group UK Fleet Director, Martin Gurney. "The Berlingo Crew Van offers operators like McCormick UK a great deal of flexibility thanks to its cleverly designed second row of seats, incorporating a movable bulkhead, which folds away neatly when the complete load space is needed, yet within seconds can provide secure, extra seating when required."